'Inhumans' TV Show Teases Hawaii Setting, "Unlike Anything You've Ever Seen"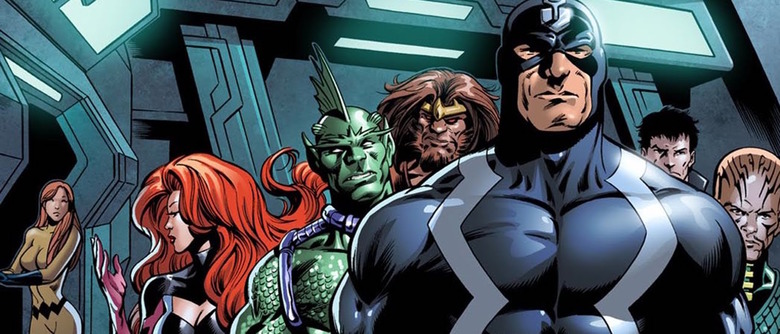 Disney is over the moon about the upcoming Inhumans television show, with Mark Endemano, senior vice president and general manager of Disney Media Distribution, raving that the Marvel superhero show is "unlike anything you've ever seen before on television."
But the moon won't play as prominent a part for the Inhumans Royal Family, who are trading in their moon-based city of Attilan for the beaches of Hawaii, in a newly released synopsis of the ABC show.
SpoilerTV revealed the new synopsis for the Inhumans TV series, and it looks like fans of Lost will get to revisit some of their favorite locations, as the Inhumans head to Hawaii:
"After the Royal Family of Inhumans is splintered by a military coup, they barely escape to Hawaii where their surprising interactions with the lush world and humanity around them may prove to not only save them, but Earth itself."
Marvel fans got a hint that Hawaii would play a large part in Inhumans thanks to some set photos leaked from the island, but judging by the synopsis, the majority of the show seems to be set there. It would be a bright change of pace from the other Marvel shows, with the Netflix series showcasing the gritty streets of New York City, and the globe-hopping Agents of S.H.I.E.L.D. often being confined to the darkened corridors of their headquarters.
Inhumans is only one of several new Marvel Television projects in development right now: Runaways is heading to Hulu, both Cloak & Dagger and the newly ordered-to-series New Warriors are in development at Freeform, and the Netflix The Defenders miniseries and The Punisher TV show will be debuting later this year.
However, Inhumans looks to be Marvel TV's biggest venture yet. The show will be filmed using IMAX cameras, and the first two episodes will be screened in IMAX theaters September 1. The rest of the eight-episode series will premiere on ABC on September 26.
Endemano is certainly singing the ambitious show's praises, telling CBR.com that Inhumans "brings a richness and depth of storytelling" to television that hasn't been seen before.
Inhumans, which was originally set to be a feature film entry into the Marvel Cinematic Universe before it was developed as a TV show, has been hinted at for several seasons now on Agents of S.H.I.E.L.D., which has made Inhuman characters a prime plot point since main character Daisy Johnson/Skye was revealed to be an Inhuman, born with the potential for special abilities. Now Inhumans, who are descended from humans experimented on by Kree aliens, are popping up all over the globe, with special powers and new political entanglements.
The Inhumans TV show, however, will focus on the Royal Family, who are an elite group of genetically-altered superhumans from the island of Attilan led by Black Bolt, a silent character who has the power to level cities with his voice.
The series is produced by ABC Studios, Marvel Television and IMAX, and stars Anson Mount, Serinda Swan, Iwan Rheon, Ken Leung, Eme Ikwuakor, Isabelle Cornish, Mike Moh, Sonya Balmores and Ellen Woglom.