'Forrest Gump' Writer To Pen Denis Villeneuve's 'Dune'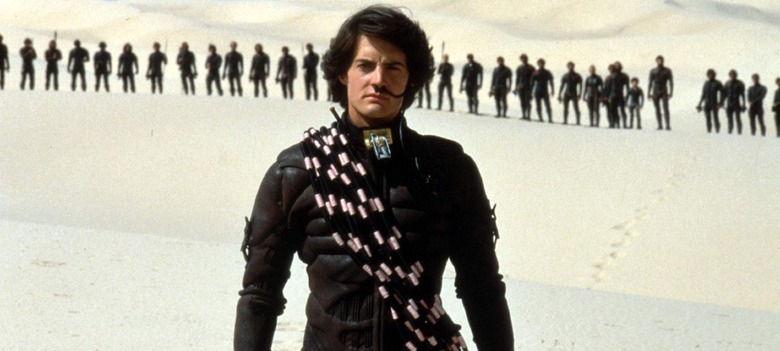 Dune is widely considered to be one of the best sci-fi stories ever, and a daunting task to adapt to film. So it's a good thing that Legendary has tapped an Oscar-winning and Oscar-nominated team to helm the reboot.
Forrest Gump screenwriter Eric Roth is set to write the script for Arrival director Denis Villeneuve's Dune, the second Hollywood adaptation of the beloved Frank Herbert novel after David Lynch's classic film in 1984 starring Kyle MacLachlan.
According to Variety, Roth has signed on with Legendary as the Dune remake writer in his first foray into the world of science fiction. Roth is best known for his work on prestige pictures such as The Curious Case of Benjamin Button, Munich and Forrest Gump, which earned Roth an Academy Award. While Roth is surely talented, he may have picked one of the hardest projects with which to start his sci-fi career — Dune is famously known as one of the most dense and complex science fiction novels ever written. The novel Dune is only the first in a series of six novels spanning thousands of years.
Read the synopsis of the first Dune book below:
"Set in the distant future amidst a feudal interstellar society in which noble houses, in control of individual planets, owe allegiance to the Padishah Emperor, Dune tells the story of young Paul Atreides, whose noble family accepts the stewardship of the desert planet Arrakis. As this planet is the only source of the 'spice' melange, the most important and valuable substance in the universe, control of Arrakis is a coveted — and dangerous — undertaking. The story explores the multi-layered interactions of politics, religion, ecology, technology, and human emotion, as the forces of the empire confront each other in a struggle for the control of Arrakis and its 'spice.'"
Dune was a sci-fi epic by Frank Herbert written in 1965, and is regularly cited as one of the world's best-selling science-fiction novels. There have been two attempts to adapt it so far: Lynch's 1984 film that was at first critically panned but has since become a cult classic, and Syfy's TV miniseries, Frank Herbert's Dune, in 2000.
Villaneuve is a bit more well-versed in the sci-fi genre, getting critical acclaim with his Oscar-nominated cerebral alien film Arrival — one of the best sci-fi films of the past decade — and currently in post-production on the Blade Runner sequel with Ryan Gosling. Villaneuve has also been a fan of Dune for years, and told Variety that it will be the "project of my life."
"For me it was just a dream, and I guess I'm lucky that Mary Parent from Legendary got the rights and offered it to me," Villaneuve said. "I can't say no to that. I have images that I am haunted by for 35 years. I will not say no to that."
While Roth is still untried in the sci-fi world, Villaneuve has my full confidence. Arrival was a genre-transcending revelation that broke down the barriers of how sci-fi could play out on film. If Villaneuve could deliver the complexities and politics of Dune half as well as he portrayed the heady messages of Arrival, then his Dune could surely become more than just a campy cult classic.