'Sandy Wexler' Music Video: A Catchy Song Is Wasted On An Adam Sandler Movie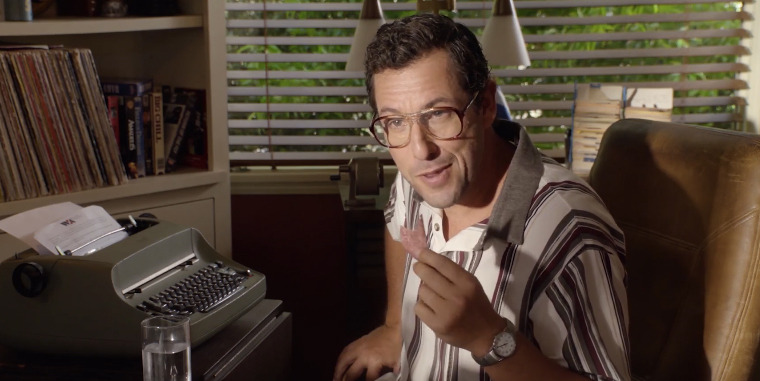 Next week brings the release of Adam Sandler's latest original movie coming exclusively to Netflix. The film is called Sandy Wexler, and it takes place all the way back in 1994, starring Adam Sandler himself as a goober of a talent agent with a roster of peculiar clients who are far from making it big. But Sandy Wexler's life changes when he stumbles upon a new face, and more importantly, a new voice.
Sandy Wexler also stars Jennifer Hudson as Courtney Clarke, an aspiring singer who the titular agents takes under his wing and somehow ends up having a fledgling career despite having a complete buffoon for representation. The Netflix original movie is really going for the music side of the movie with at least one original song being produced for the film, and an official Sandy Wexler music video introduces us to the catchy tune. Unfortunately, it's accompanied by footage from the movie too.
Here's the Sandy Wexler music video straight from Netflix:
The video has some 1990s flair to it, and the sound actually feels like a blend of the pop music of today and 20 years ago. Helping give the song the right vibe is the fact that it was written and produced by Kenneth "Babyface" Edmonds, complete with a rap verse from Ma$e, who gets a little too close to "Courtney Clarke" for Sandy's comfort.
For those paying attention to the footage in the music video, it pretty much gives away the whole story (though it wasn't that hard to predict how it was going to go anyway). Besides that, the footage includes shots of all of Adam Sandler's usual cronies making appearances as Sandy Wexler's weird clients. You know what, maybe just look away and listen to the song, because it's not bad for a pop tune.
If you dare, watch the Sandy Wexler trailer released not too long ago right here.