Exclusive: Dan Trachtenberg's 'Crime Of The Century' Eyed As A Big Action Franchise Starter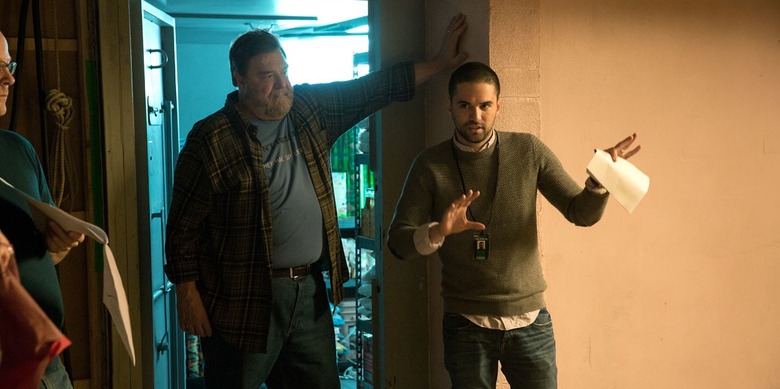 In 2011, Universal acquired a pitch for a sci-fi movie called Crime of the Century from Fast & Furious screenwriter/producer Chris Morgan. He's producing that film, which is based on an original idea from Dan Trachtenberg (Black Mirror) and writer Daniel Kunka (12 Rounds). Trachtenberg has been on board to direct from the very beginning, long before he made his feature directorial debut last year with 10 Cloverfield Lane.
Crime of the Century has been shrouded in mystery for years as it's inched through the development process, but I spoke with Morgan and Trachtenberg and managed to get a couple of updates about the movie. This sounds like it's going to be huge.
We knew the movie centered on a high-octane heist with a science fiction twist. I interviewed Chris Morgan yesterday about The Fate of the Furious (our full interview will be on the site next week), and asked if he could give us any more plot details about this mysterious project.
"That one I have to be protective of. We're revising the draft right now. Trachtenberg is at the helm of it. But I've gotta tell you, it's one of my favorite projects of all time. It's awesome. It's a great ensemble. It's a giant big action franchise starter. I'm really, really excited about this one. I think there's the potential for an incredibly great, big action franchise at the studio with this. You won't be disappointed. I think you'll love it."
Despite the fact that he couldn't go into too many details, Morgan's excitement for the project shines through in that answer. One of his favorite projects of all time? That's some major hype, and as we've seen in the Fast movies, Morgan can deliver on spectacle in a big way.
I also reached out to Trachtenberg to see if he could tell me anything new about the movie. Here's his response:
It is indeed a sci-fi heist movie and the title says so much about the plot. I'm generally really bad with titles. But on this rare occasion, I landed on a fucking great one.
Let's put a pin in that for a second and look back at an answer the director gave to our own Peter Sciretta in an interview last year when he was asked a similar question:
Crime of the Century is a badass time travel heist movie. And I'm desperate to make it. It's still in development. Hopefully now that I've finished up with [10 Cloverfield Lane], I could swing back into that and I would love to make that next. It's a really original, very unique, exciting action movie that's as smart as it is fun. So I would hope that I get a chance to make it.
So, to combine everything we know so far: it's an original, action-oriented time travel heist movie with an ensemble cast and a title that reveals a lot about its plot. Does that mean we'll follow a crew of thieves traveling back and forth through time across a 100 year span as they try to engineer the perfect heist? I'm a big fan of time travel in movies, and I love bombastic action, so this sounds like a match made in heaven for me.
We'll keep you posted as soon as we hear more, but in the meantime, let us know if you're looking forward to Crime of the Century in the comments below.