Seth Rogen & Evan Goldberg To Direct Adaptation Of Robert Kirkman's Comic 'Invincible'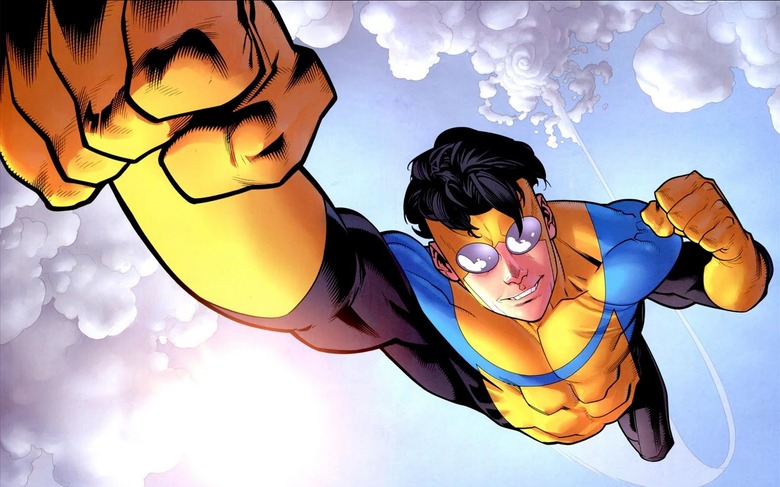 After successfully adapting Preacher for AMC, a comic book property many others struggled with, Evan Goldberg and Seth Rogen are now taking on another well-known comic, Robert Kirkman's (The Walking Dead) Invincible. The duo will produce, direct, and write the comic book movie for Universal.
Below, learn more about the potential Invincible movie.
The Hollywood Reporter has learned Goldberg and Rogen are making Invincible through their Point Grey banner. The 14-year-old comic is now on its 133rd issue. It'll soon finally end its long run with issue #144. The story follows teenage superhero Mark Grayson, known to the world as Invincible. The teenager lives a pretty normal day-to-day life, going to school and work – but his dad happens to the most powerful superhero alive. When Mark turns 17, he starts to gain his own superpowers.
Kirkman co-created the comic with artists Ryan Ottley and Cory Walker. The Walking Dead creator issued this statement:
For nearly a decade I've had to endure the 'what about Invincible?' question as fans have watched The Walking Dead grow into the multi-media monstrosity it has become over the years. The answer was always that we were waiting for the right team to partner with. That team has arrived! The esteemed misters Goldberg and Rogen have proven themselves to be top-notch directors with a keen collective eye for stunning visuals after slumming it by writing hit after juggernaut hit.
Invincible's surprising, edgy, shocking, and oftentimes blood-soaked story couldn't be in more capable hands. With the team of Rogen, Goldberg and Universal, I'm very confident this will be another superhero movie, in a long line of superhero movies that continues to prove that it's a viable, thrilling genre that will keep people coming to the cinema for years to come
Rogen and Goldberg added:
No matter how much damage it causes our bodies, minds, and our most intimate relationships with those we love, we will not rest until Invincible is as great a movie as it deserves to be.
The last comic book adaptation the duo worked on, The Green Hornet, wasn't a great experience. It left them wanting to stay under a certain budget number moving forward, but now as established filmmakers, having made This is the End, The Interview, and the wonderful Preacher pilot, maybe the two of them can make a big superhero movie with fewer restraints. The duo's next effort behind the camera, Future Man, is expected to hit Hulu sometime this year.