"Rexy" The Tyrannosaurus Rex From 'Jurassic Park' Will Return In 'Jurassic World 2'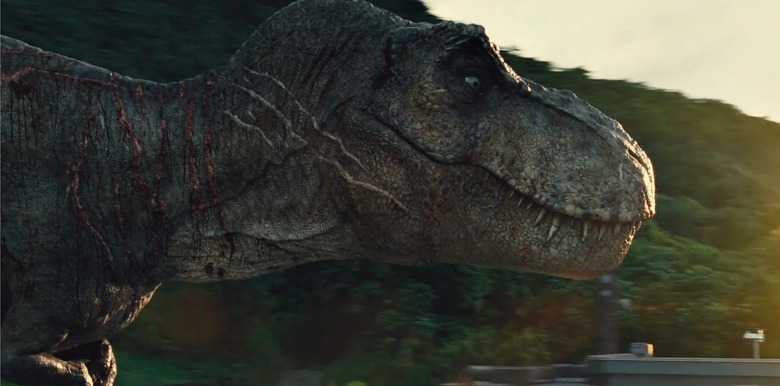 We honestly don't know much about Jurassic World 2, so any news seems like a discovery at this point. We now have confirmation on another returning character from Jurassic Park and Jurassic World: The T-Rex is back! Hit the jump to find out what producer Colin Trevorrow said about the Jurassic World 2 T-Rex return.
Producer Colin Trevorrow confirmed that the Tyrannosaurus Rex would return in the yet-to-be-titled Jurassic World Sequel:
Confirmed. Tell her when she wakes up. https://t.co/d39LBJ7LK5

— Colin Trevorrow (@colintrevorrow) April 3, 2017
And Trevorrow is responding to a question on if "Rexy" will come back in the sequel, that being the nickname for the same exact T-rex from Jurassic Park and Jurassic World. This is interesting because if that is the case, it means that we'll either return to the park on Isla Nublar or the dinosaurs from that island have been relocated elsewhere, but for what purpose? Judging from the fan response to the character in Jurassic World, I would think Universal and Amblin Pictures might want the iconic dinosaur a bigger part of the story in this sequel.
When I was on set of Jurassic World, Trevorrow said the following about Rexy:
The T-Rex that's in the film is the T-Rex from the original Jurassic Park and she is 22 years older. But, she's not limping around. ... We took the original design and obviously, technology has changed. So, it's going to move a little bit differently, but it'll move differently because it's older. And we're giving her some scars and we're tightening her skin. So, she has that feeling of, like, an older Burt Lancaster. And this movie is her Unforgiven.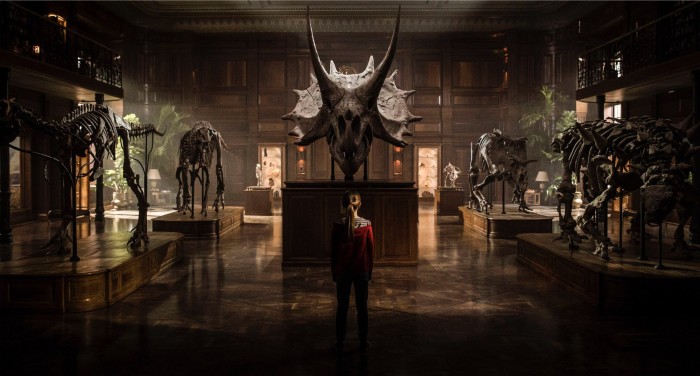 We know that filmmaker J.A. Bayona is expected to "push the boundaries of what a Jurassic Park movie can be," and that it would be more "suspenseful and scary" than its predecessor. Producer Colin Trevorrow has said that the film will be "a parable of the treatment animals receive today" but has also denied that the story will be about militarized dinosaurs. In fact, I don't even think we know the identity of the seven-year-old girl who stars in the film and is featured in the lone production photo above.
Bryce Dallas Howard is reprising her role as Claire alongside Chris Pratt's raptor-trainer Owen. BD Wong will also be returning as Dr. Henry Wu. Newcomers to the series include Ted Levine, James Cromwell, Daniella Pineda, Toby Jones, Rafe Spall, Geraldine Chaplin and Justice Smith. The film is still currently filming and is set for release on June 22, 2018.