Why Doesn't Bradley Cooper Play Rocket Raccoon On The 'Guardians Of The Galaxy' Set?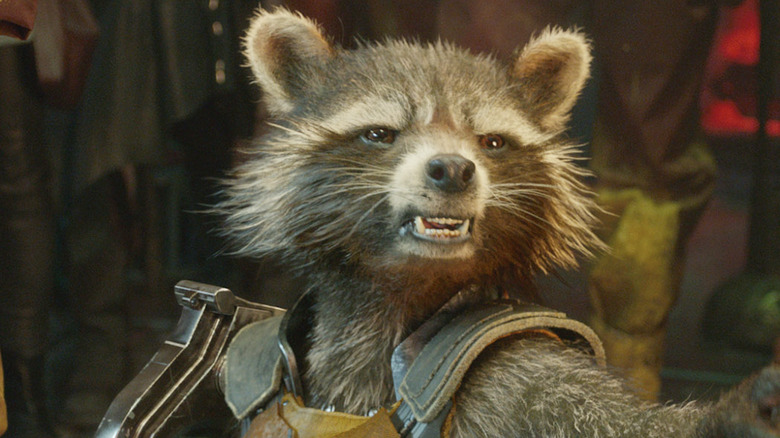 Marvel Studios
Bradley Cooper provides the voice for the brash and reckless Rocket Raccoon in Marvel's Guardians of the Galaxy franchise. However, unlike actors such as Andy Serkis, he doesn't actually work on set to do any motion capture work to bring the anthropomorphic raccoon to life. Instead, it's James Gunn's brother Sean Gunn (who also plays the Ravager named Kraglin) who provides a point of reference for Rocket Raccoon on screen, appearing in a green screen colored unitard. But why?
James Gunn recently held another one of his informative Facebook Live streaming sessions where he answered fan questions. When one asked if the director would ever use Bradley Cooper on set during production, he explained why he doesn't do that by default.
Find out why Sean Gunn plays Rocket Raccoon on set after the jump.
When asked if Bradley Cooper could ever be the stand-in for Rocket Raccoon while shooting, Gunn explained on Facebook Live that his brother does more than just sit on set in place of the eventual visual effect that will replace him (via CinemaBlend):
"Sean Gunn is not a stand-in. He is a motion reference actor. That means we film everything Sean does on set as Rocket. We film it. I don't stop doing takes of him until we get the performance right and then we use that performance as a basis for much of Rocket's acting. And he does a fantastic job in that role. He knows it. He understands it.
And also very important, Sean is able to physically do something most actors aren't able to do, which is waddle around on all fours. He's always been an incredibly limber guy that can to do a lot of strange physical things. And the fact that he's able to waddle around on his legs all day long at the exact height of Rocket is quite a feat and quite quite difficult."
That's a decent practical explanation for why Sean Gunn is used on set instead of Bradley Cooper. Sean Gunn acts as a reference point for visual effects, so James Gunn and the visual effects artists know where Rocket is at all times, complete with movement. That's also something helpful for the actors who have to interact with the character as he moves around a scene. But the question as to why Bradley Cooper doesn't take on that job instead still remains, even if he's not as limber as Sean Gunn.
More than likely, it's cheaper for Disney and Marvel to have Sean Gunn do the motion reference work instead of Bradley Cooper, simply because it would cost more to have the actor on set as often as they need him. It's probably the same reason that Vin Diesel didn't do the motion reference/capture work for Groot, even before he became a much smaller version of himself in the upcoming sequel. Disney may be a multi-billion dollar corporation, but they still have to save money where they can.
Guardians of the Galaxy Vol. 2 arrives on May 5.