'Preacher' Season 2 Promo: Take A Road Trip On The Wild Side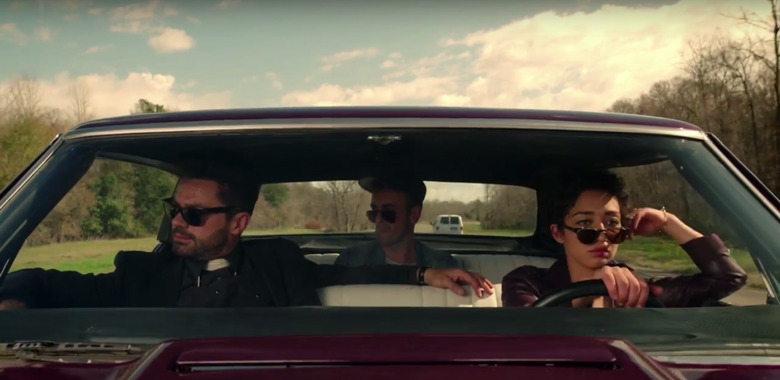 Preacher is coming back in just a few months to remind you just how weird and dynamic a show it is, and the first preview for the second season of the AMC series features our main trio embarking on a wild and violent road trip.
On their mission to literally find God, Jesse (Dominic Cooper), Cassidy (Joseph Gilgun) and Tulip (Ruth Negga) find themselves at odds over their road trip's song choice, but their argument is soon interrupted by a police car coming after them.
Violence ensues in a quick montage of scenes from the show: a violent shootout, ominous declarations of power, an appearance by "Arseface," and a kinky dalmatian get-up — all as Dexys Midnight Runners' cheesy pop song "Come on Eileen" plays over the bloody footage. "It's a good song," Cassidy finally declares in the car, as Tulip and Jesse share an eye roll.
It's Preacher in a 30-second nutshell — wacky, dissonant and gory. Less apparent is the theological battle between the divine and mortals in an effort to find ab absent God, but that is present as well, despite the trailer and the show's smirking nods towards religion.
The first season of the AMC adaptation of the DC Comics Vertigo comic book series by Garth Ennis and Steve Dillon was primarily set-up, establishing the characters and main character Jesse's coping with the supernatural being Genesis — born from an angel and demon — inhabiting his body. Season 1 was a slow-burn, which Preacher showrunners Sam Catlin, Seth Rogen and Evan Goldberg were both lauded and criticized for, but with season 2 sticking more closely to the comic series, that may soon change.
Season 2 of Preacher should begin right around where the original comic book starts. That means the introduction of new characters and the re-introduction of enigmatic ones, such as Graham McTavish's "The Cowboy" (known to comic readers as "The Saint of Killers"), who was introduced as a mysterious side character in the first season before eventually being unleashed from Hell and let loose in the real world. The main cast is bulking up as well, with Noah Taylor, Pip Torrens, and Julie Ann Emery joining as series regulars in season 2. Not much is known about what roles they'll be playing, though we theorize about it here.
And because I know "Come On Eileen" is already stuck in your head, I'll play myself out.
Preacher season 2 will premiere on AMC on Monday, June 19, 2017.