POTD: Stan Lee May Have Shot His 'Avengers: Infinity War' Cameo Already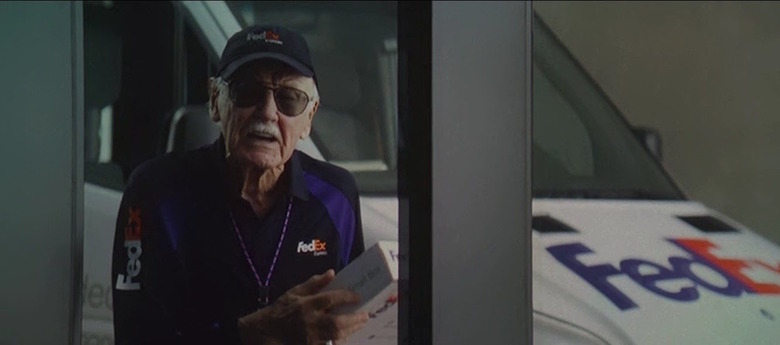 A Marvel movie, even one that is produced outside of Marvel Studios, just wouldn't feel complete without a cameo from comic creator Stan Lee. He's a good luck charm, and his appearance is expected in pretty much every Marvel movie (though he hasn't actually appeared in all of them). And it turns out, Stan Lee may have recently filmed a cameo for a Marvel Studios project coming much further down the line.
Guardians of the Galaxy star Karen Gillan, who plays Gamora's troublesome sister Nebula, recently posted a picture to Instagram featuring her standing on a studio backlot with none other than Stan Lee. Furthermore, Karen Gillan just so happens to be wearing her Nebula make-up. Since Avengers: Infinity War is currently shooting in Atlanta (as well as Edinburgh, Scotland), many have assumed that Stan Lee recently shot his Infinity War cameo, but we're not so sure that's the case.
The word of the Stan Lee cameo in Avengers Infinity War came after this photo was posted:
Nebula and the legend and marvel mastermind @therealstanlee
Sure, since Nebula has been confirmed to be in Avengers: Infinity War, the comic legend could have been down in Atlanta shooting a cameo. However, Gillan didn't offer up any details as to whether this was a recent photo or not. Therefore, it could easily be have been taken on the day that Stan Lee shot his cameo for Guardians of the Galaxy Vol. 2.
Some are taking this photo hand-in-hand with something Kevin Feige recently said when he appeared on Leonard Matlin's podcast Maltin on Movies recently (via ScreenRant). While on the show, he said:
"Most recently he flew to Atlanta and shot four cameos in one day for upcoming projects, one of which I think is maybe the best one we've ever done. It's a high bar for Stan."
However, that doesn't necessarily mean that happened very recently. You might recall that back in September, we heard that Stan Lee had already shot his next three cameos for Doctor Strange, Guardians of the Galaxy Vol. 2, and Spider-Man: Homecoming in one day. A further revelation from director James Gunn hinted that Lee also shot a fourth cameo, which was presumably for Thor: Ragnarok. Gunn knew this because he directed three of the four cameo scenes in question.
That sounds like what Kevin Feige is talking about to me, which makes me think that the photo in question isn't from a recent shooting stint featuring Stan Lee. Furthermore, if the photo and the remarks are taken hand-in-hand, then what are the other movies that Stan Lee would have shot? If these four cameos were shot recently, they would have to be for Avengers: Infinity War, Black Panther, Avengers 4, and maybe Ant-Man and The Wasp. That doesn't seem likely to me since the latter is still in pre-production. It's like out of the realm of possibility, but I'm willing to bet that Karen Gillan's photo isn't from Avengers: Infinity War. But you can bet he'll have a cameo in that movie for us to spot anyway.