This 'Rogue One' Shot Was Created, Animated, Rendered & Released In Under A Week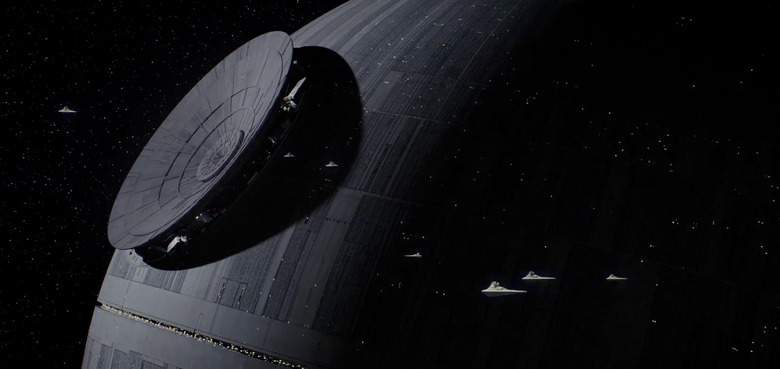 Industrial Light and Magic is at the top of their game when it comes to technology and advancements in visual effects. The work on Rogue One: A Star Wars Story done by John Knoll, Mohen Leo, Hal Hickel and Neil Corbould was even nominated for an Academy Award this year, though sadly they didn't walk away with the trophy. Now we'd like to offer a sneak peek at some of the tools they use to bring Star Wars to life.
A couple weeks ago, /Film visited Industrial Light and Magic as part of a press event for the home video release of Rogue One: A Star Wars Story (available on Blu-ray and DVD today). While there, we were given a demonstration of how ILM used their state of the art technology to give director Gareth Edwards the freedom he needed to shoot complicated visual effects sequences in such a way that he was able to create a shot one day and see it fully rendered in the first teaser trailer for Rogue One just five or six days later.
Industrial Light and Magic has a virtual production system that allowed director Gareth Edwards use a virtual camera to capture the camera movements and angles that he wanted for sequences that were composed entirely of visual effects, such as the space battle over Scarif at the Imperial shield gate surrounding the entire planet, for example.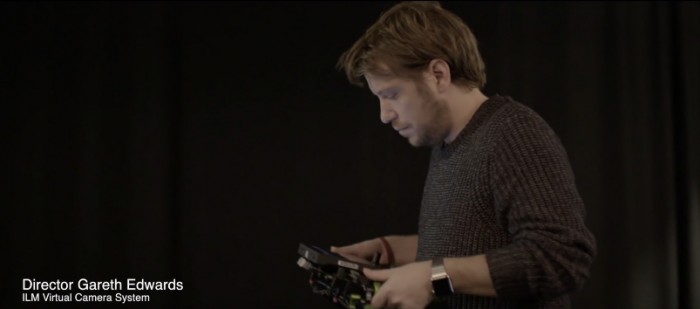 This is a system that allowed us to have Gareth Edwards essentially show us what kind of camera moves he wanted as opposed to describing it...kind of a show rather than tell form of communication really. Mike Jutan, virtual production team at Lucasfilm, explained to us:
"Gareth is a down and dirty filmmaker. On set he likes to camera operate himself. He did a lot of the camera operation on the real life set himself, so we wanted to simulate that experience for the all CG shots.
A big goal of executive producer John Knoll was that he wanted us to have consistency between the real life shots and the all CG shots. So certainly it's possible to simulate what the director wants, and that's what we have tended to do in the past, without them holding a virtual camera for you at any point. John wanted to push that a lot further and try to have Gareth be the camera operator for everything."
So how did they do that? Basically, they've created a virtual camera rig through an iPad Gamevice controller with an HTC Vive motion controller and proprietary software that links to their computer system so they can simulate the camera movement inside a pre-visualization of any given pre-recorded visual effects sequence. If you can't entirely wrap your head around that, here's a quick demonstration from ILM:
ILM took a system they've used on other productions before, but they made it more lightweight. Rogue One was the first time they used this particular virtual camera system, and it allowed for a much more streamlined way for Gareth Edwards give the ILM team the shots that he wanted. The system didn't require Edwards to produce smooth camera movements, especially since that can be difficult by only using an iPad in a controller rig, but it gave ILM the information they needed to create the shot that he wanted.
It's this system that allows Gareth Edwards the kind of creativity a filmmaker needs for sequences that he isn't shooting on an actual set. In fact, ILM is such a finely tuned visual effects studio that Gareth was able to have this system set up in the basement of one of his offices so that he could run through visual effects sequence with only himself and one other person manning the computer. This fast-paced system allowed the shot that you see at the top of the page to go from Gareth's head to being in the
in just six days. Mike Jutan explained the instruction they were given leading up to the release of that teaser:
"Someone from Disney was there saying the fans really want a Death Star reveal in the trailer and we need to find a Death Star shot. We hadn't planned it, we didn't know what we were getting into, and we were shooting lots of other stuff the same day. So we loaded up the Death Star with just some very basic animation of the dish landing."
Here are a couple of shots of what that pre-visualization sequence looked like through the virtual production rig:
Jutan explained what happened when they gave Gareth Edwards free reign to come up with the shot they needed and how the Rogue One virtual camera system made it possible:
"Rather than shooting an animated sequence, it was mostly static, just the dish coming in. And we let Gareth just kind of freely roam around the Death Star. We made it a lot smaller, he said, 'Make it the size of a basketball.' So we allowed him to look around and find the shot. We had the ships there, we moved a few of them around...Then he said, 'Can you move the sun?' So we started moving the sun and the light source around, and he got this really nice shadow as the dish was animating across the side of the ship. So that was all just by chance. It was creeping along the ships as well as the Death Star itself, and he's like 'This is great.' So he camped out somewhere and found a great shot and we're just sitting there behind the computer making sure nothing explodes, other than things that are supposed to explode, making sure nothing goes wrong."
So they now have their idea for the shot, but that's just the beginning. After the day was over, all the files were sent to the rest of the ILM offices around the world. In this case, it started in San Francisco where they tweaked the animation, tightened up the lighting, putting the lights on the Death Star, etc. By the next morning in London, where production was based, Gareth was able to see his shot realized with early visual effects in place. About four or five days after that, those shots appeared in the teaser trailer for Rogue One.
If you'd like to learn more about the virtual production rig at ILM,
actually got an even closer look at the virtual production set-up about a month ago with an even better demonstration: