'The Mummy' Trailer: Tom Cruise Unleashes An Ancient Power And Wants To Paint It Black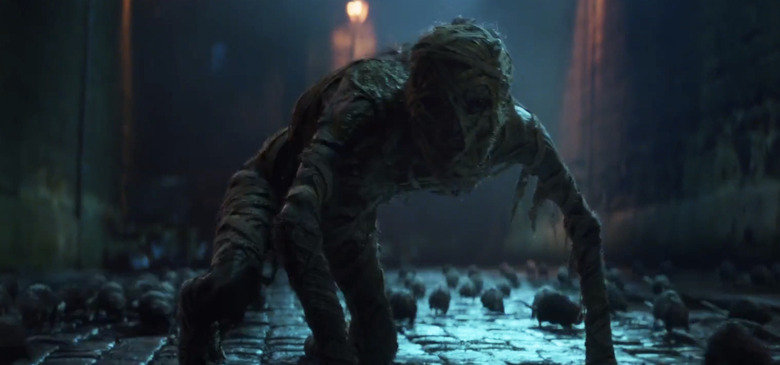 The first trailer for Universal's remake of The Mummy only gave a hint of the horror in store for Tom Cruise in the first installment of the new Universal Monsters shared universe. But now a new trailer offers a further glimpse at the return of an ancient princess who was imprisoned in a tomb and left to die, and now she's out to destroy the modern world so she can rule over the world she once knew.
Watch The Mummy trailer after the jump.
This trailer sells even more of the larger scale action combined with the seemingly tame horror that you'd expect from a PG-13 tentpole. I'm hoping that there will be some genuinely scary moments in this movie, but so far, it just seems like it will put our characters in danger without expressly frightening audiences.
Universal's movie is supposed to set up the larger Universal Monsters universe that will eventually lead to Dracula, The Wolf Man, Frankenstein, Creature from the Black Lagoon, and The Invisible Man, the latter of which will be played by Johnny Depp.
The Mummy is the second film from director Alex Kurtzman (producer of Transformers, Star Trek and Mission: Impossible franchises), who previously helmed 2012's People Like Us. He also wrote the script with Fast and Furious franchise writer/producer Chris Morgan and Sean Daniel (producer of the previous The Mummy trilogy). In addition to Tom Cruise, the cast also features, Annabelle Wallis (Peaky Blinders), Jake Johnson (Jurassic World), Courtney B. Vance (The People v. O.J. Simpson) and Russell Crowe.
Thought safely entombed in a tomb deep beneath the unforgiving desert, an ancient princess (Sofia Boutella of Kingsman: The Secret Service and Star Trek Beyond) whose destiny was unjustly taken from her is awakened in our current day, bringing with her malevolence grown over millennia and terrors that defy human comprehension.
From the sweeping sands of the Middle East through hidden labyrinths under modern-day London, The Mummy brings a surprising intensity and balance of wonder and thrills in an imaginative new take that ushers in a new world of gods and monsters.
The Mummy arrives on June 9.Correction: This article previously stated that The Mummy was Alex Kurtzman's directorial debut. We have updated it and apologize for the error.