Channing Tatum To Voice An R-Rated George Washington In Netflix Animated Film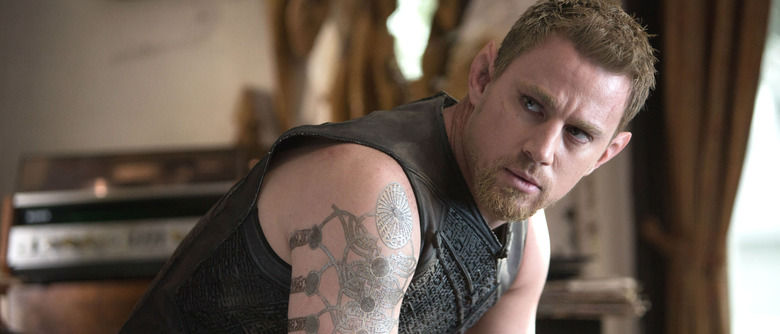 Channing Tatum is rated-R for Revolutionary...War, which the first President of the United States, George Washington, fought in for independence from Britain. Jokes (or whatever that was) aside, Tatum will be actually be starring as Washington in Netflix's first animated feature, an R-rated revisionist historical film, America: The Motion Picture.Deadline reports that Tatum will be voicing the lead character, George Washington, in America: The Motion Picture, Netflix's first original animated film and an R-rated, fictional take on the founding of the United States.
The script is written by Dave Callaham (Godzilla) and directed by Matt Thompson who, alongside his Floyd County partner Adam Reed, is behind the animated satirical series Archer. Callahan, Thompson and Reed are all producing America: The Motion Picture. Tatum will also produce alongside his Free Association partners Peter Kiernan and Reid Carolin, and The LEGO Movie's Phil Lord, Chris Miller and Will Allegra. Those are a lot of very interesting names.
Tatum has done some voice acting work before, playing Superman in The LEGO Movie, voicing himself on The Simpsons, and playing his character from Magic Mike in the video game Family Guy: The Quest For Stuff.
Not many details are known about America: The Motion Picture. The film itself seems to be a nice confluence of all the things "on trend" right now, so to speak: Revisionist historical stories (Hamilton), R-rated animation (BoJack Horseman, Archer) and irreverent comedy (The Lego Movie everything Channing Tatum has done recently).
I'm wary of overly irreverent animated projects because they can get old fast, but snapping up Tatum while he's in his prime (the Tatumaissance?) is a smart move for Netflix, which is rapidly expanding its original content by the second. Tatum's career has been on the up ever since the world discovered his comedic chops in 21 Jump Street in 2012 — though I'd argue that we saw glimpses of it in the underrated classic, She's The Man — and has only been stealing scenes since. Just look to 2015's The Hateful Eight, 2016's Hail Caesar, and every minute of both Magic Mike movies. He also played a goofy wolf alien soldier in Jupiter Ascending (see the image at the top of this post), the kind of nutty work more "movies stars" should embrace.
Tatum is next slated to appear in the sequel Kingsman: The Golden Circle and the heist film Logan Lucky, and will also find time to get around to Gambit, Wingmen and Splash.