'Snatched' Clip: Goldie Hawn Gives Amy Schumer A Special Whistle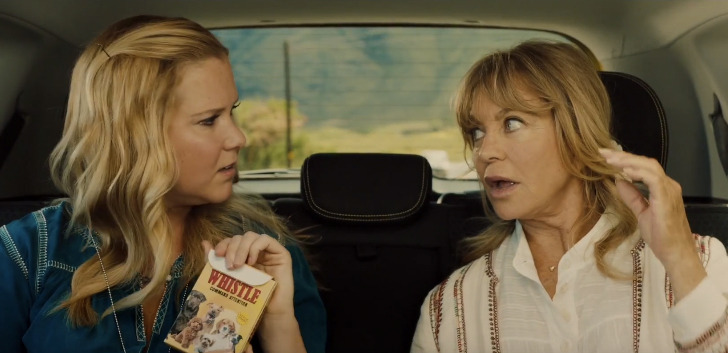 Summer movie season is right around the corner. It unofficially begins in April with The Fate of the Furious, but really swings into gear at the beginning of May with Guardians of the Galaxy Vol. 2. While summer is a place for big screen spectacle, there will be some blockbuster comedies hoping to make a dent as well, and the first one comes from Amy Schumer.
Snatched sees the Trainwreck star teamed up with Goldie Hawn on a little mother-daughter excursion to a nice exotic locale. Even though they're not exactly getting along or bonding, they're soon forced to spend even more time with each other as they end up kidnapped by some dangerous locals, leaving them to rely on each other to escape and survive. It's funnier than it sounds, and a new clip shows the amusing dynamic between Amy Schumer and Goldie Hawn.
Watch the Snatched clip below.
This looks like a much better version of The Guilt Trip, which starred Seth Rogen and Barbra Streisand. The premise is a simple one, but the chemistry between Schumer and Hawn is undeniable here. It clear there's a lot of improvisation involved, and the two just bounce off of each other incredibly well. The real trick will be meshing that comedy feeling with a story that also has some urgency and excitement though, something that isn't always easy when mashing up comedy and action.
I'm glad that Schumer is using her popularity and power in Hollywood right now to bring someone like Goldie Hawn back into the fray. The superficiality of Hollywood has hung Hawn out to dry as she aged, but she's an insanely talented comedic actress, and she deserves to still have a prominent place on the big screen. Hopefully as more female-driven movies come to fruition, we'll start to see some other great actresses back in the movies.
Snatched also stars Ike Barinholtz (Neighbors) as Amy Schumer's brother, Wanda Sykes as a fellow vacationer (Bad Moms), Joan Cusack as someone who gets caught up with the ladies, and Christopher Meloni in an unknown role, but I'm hoping he turns out to be a key villain.
If you want to see more from Snatched, watch the red band trailer right here.
After her boyfriend dumps her on the eve of their exotic vacation, impetuous dreamer Emily Middleton (Amy Schumer) persuades her ultra-cautious mother, Linda (Goldie Hawn) to travel with her to paradise. Polar opposites, Emily and Linda realize that working through their differences as mother and daughter – in unpredictable, hilarious fashion – is the only way to escape the wildly outrageous jungle adventure they have fallen into.
Snatched hits theaters on May 12.