'War Machine' Trailer: Brad Pitt Will Win The War In Afghanistan (He Doesn't)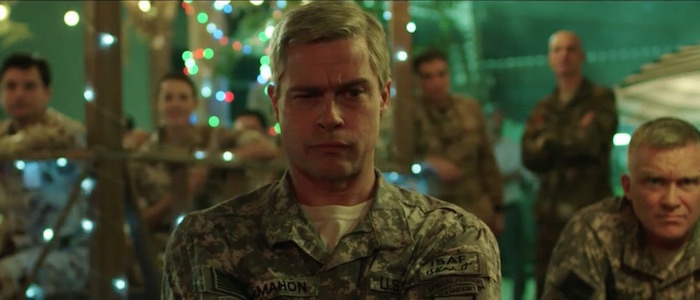 Brad Pitt has always been at his best when he abandons all pretense of being a "movie star" and embraces his inner-character actor. So there's plenty of fun to be had in the War Machine trailer from watching one of the most famous men in the world vanish under a grey head of hair and a grizzled accent.
Pitt seems to be putting his energies into a film that feels designed to ruffle feathers. While the new film from Animal Kingdom director David Michôd is based on the non-fiction book The Operators, his execution looks almost purely comedic. This appears to be a harsh and satiric look at the United States' military operations in Afghanistan, falling somewhere between Dr. Strangelove and Three Kings.
The official synopsis for War Machine goes out of its way to establish that Michôd's new film is "pro-soldier," even as the story involves overconfident leadership leading troops into the "dark heart of folly." As someone who grew up in a military family and counts soldiers among his extended family right now, this approach feels right. Military leadership, much like anyone in a position of authority and power, is due for a satiric skewering every now and again.
Here's the trailer. It certainly sounds like Pitt is doing his best George C. Scott impression, which is a delightful choice.
While this looks like a traditional studio movie, War Machine is actually a Netflix original film and it will arrive this summer, offering some counter-programming to the usual blockbuster fare. Yes, Netflix movies this year include new projects starring Brad Pitt and Will Smith. The times, they are a'changing.
War Machine will open in limited release and arrive on Netflix on May 26, 2017. The film also stars Emory Cohen, RJ Cyler, Topher Grace, Anthony Michael Hall, Anthony Hayes, John Magaro, Scoot McNairy, Will Poulter, Alan Ruck, Lakeith Stanfield, Josh Stewart, Meg Tilly, Tilda Swinton, and Ben Kingsley. Here's the official synopsis:
In a film for our times, writer-director David Michôd (

Animal Kingdom

) recreates a U.S. General's roller-coaster rise and fall as part reality, part savage parody – raising the specter of just where the line between them lies today.  His is an anti-establishment, pro-soldier exploration in the form of an absurdist war story of a born leader's ultra-confident march right into the dark heart of folly.  At the story's core is Brad Pitt's sly take on a successful, charismatic four-star general who leapt in like a rock star to command NATO forces in Afghanistan, only to be taken down by his own hubris and a journalist's no-holds-barred expose.

War Machine

addresses the debt we owe to soldiers to question the purposes to which they are being directed.