'The Mindy Project' Calls It Quits With Sixth And Final Season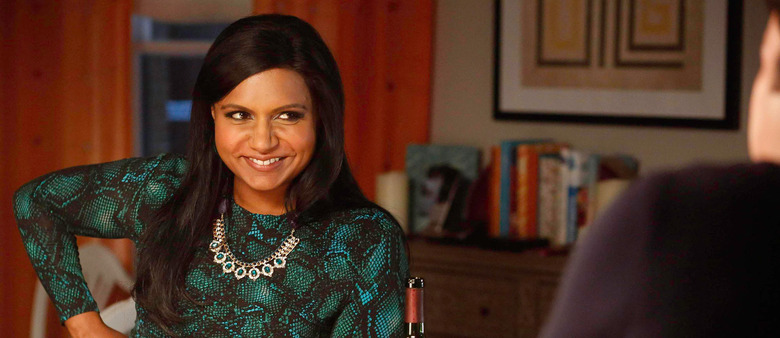 Consider The Mindy Project complete.
Mindy Kaling's rom-com riff, which spent so many years on the bubble (first getting cancelled by Fox after three seasons before getting picked up by Hulu), is ending its run with its sixth and final season, airing this September.
Kaling, who created, executive produced, wrote and starred in the show, spoke to Entertainment Weekly about letting Mindy Lahiri, the superficial and selfish OB-GYN, finally hang up her scrubs and get her happy ending. In a Q&A reflecting on the show's journey and Mindy's growth as a character, Kaling said:
"I want to do something surprising. I want to do something that feels good but also makes you feel like when you leave the character, that she's learned something in these past six years—for someone who doggedly doesn't want to learn. She's actually, unwittingly become kind of better."
The Season 5 finale ended with (spoilers!) Mindy deciding to marry her nurse boyfriend Ben (Bryan Greenberg), after years of failed relationships, a son with Danny (Chris Messina) and a newly launched career at a fertility clinic. It fulfills the rom-com tropes that Kaling had been playing with and paying homage to, throughout the five seasons of The Mindy Project. But unfortunately, as a former viewer of The Mindy Project who even stuck with it for a season after Danny left, it's also one of the show's biggest faults. As a lapsed fan, not even the news of a final season will bring me back.
The news ends there. The next bit is all opinion.
How Not to Subvert the Romantic-Comedy
The Mindy Project didn't know what it wanted to be from the beginning — was it a journey of self-discovery for an inherently unlikable character, was it a workplace sitcom, or was it an awkward cringe comedy? It settled, ultimately, on being a subversive rom-com, or at least that's what I wanted to think. Kaling is an avid lover of rom-coms, and that love proliferated throughout the series, showing early on that Mindy as a flawed, egotistical character who was just a sappy romantic at heart.
As with any rom-com, there needs to be a worthy male lead, and Chris Messina gamely stepped up to that role. Messina and Kaling's chemistry was one of its major charms, and lifted the show to be one of the best portrayals of will-they-or-won't-they tension on TV.
When they finally got together — a death knell for many a television show — The Mindy Project only got better, exploring how these two flawed characters navigated the ins and outs of a steady relationship, and reconciled their sweeping romantic expectations with reality. It was funny and subversive – the rom-com that explored what went beyond the happy ending, but still kept the characters grounded.
But when Messina's film career started to get in the way of the show's production schedule, Danny became a recurring character, and a real asshole. But that was interesting too — Mindy got the dream man, but he wasn't what she expected him to be; he wanted her to give up her career for their kid. When they broke up, I was still game, despite my hatred of the new characters clearly introduced to replace him, and Kaling's fixation on white men (and only occasional dips into the well of storytelling about minorities). I was sure the show would explore Mindy as an independent career woman, realizing the flaws of her rom-com dreams and finally undergoing her own personal "project." Instead, Ben the Hot Nurse was introduced an episode later, and I dropped the show.
The Mindy Project had brief shining moments of biting commentary and subversive storytelling, but Kaling's personal biases toward the rom-com genre (for which I don't fault her), and her inability to let go of a bad character lost me as a viewer. The Mindy Project should have ended two seasons ago, and while I'm happy that Mindy gets the happy ending she deserved, the journey almost wasn't worth it.
But all is not lost for the subversive romantic-comedy — at least I have still have Crazy Ex Girlfriend.