'Paris Can Wait' Trailer: Alec Baldwin And Diane Lane Star In Eleanor Coppola's Road Movie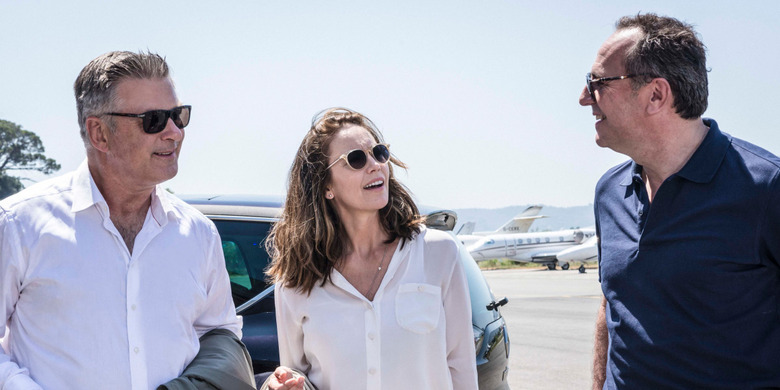 At the age of 81, Eleanor Coppola, wife of Francis Ford Coppola, has made her feature narrative directorial debut, Paris Can Wait. Of course, she co-directed Hearts of Darkness: A Filmmaker's Apocalypse, in which she gave us some unforgettable, up-close and personal moments from the disastrous Apocalypse Now shoot. Her new feature film, Paris Can Wait, is considerably lighter in tone compared to her famous doc.
Below, watch the very charming Paris Can Wait trailer.
Diane Lane (Unfaithful) plays the wife of a Hollywood bigshot, Alec Baldwin (Miami Blues), who goes on an unplanned road trip from Cannes to Paris with an associate (Arnaud Viard) of her husband. The drive, which should only take seven hours, instead leads to three days of eating good food, drinking fine wine, and maybe a personal revelation or two.
Here's the Paris Can Wait trailer:
Coppola, who also wrote "Notes on a Life" and has directed a few other docs, was inspired to write and direct the film after a trip she took to the 2009 Cannes Film Festival with her husband. When she was sick and didn't feel up to flying to Budapest, her husband's associate offered to drive her to the Paris airport. As it unfolds in the movie, the road trip took three days. The filmmaker told The Hollywood Reporter why she decided to tell that story on film:
It was just one of those experiences that you can only have in France, and it made such an impression on me. I was telling a friend about it when I got back, and she said, 'That's a movie I want to see.'
And based on the reviews, it's a movie you should all want to see, too. After Paris Can Wait debuted at the Toronto International Film Festival, critics praised it as a charming, joyful, and kindhearted road movie. The trailer does make Coppola's film look appealing, partially because it has Diane Lane, a great actress with such natural charisma.
Here's the synopsis:
Eleanor Coppola's feature film directorial and screenwriting debut at the age of 81 stars Academy Award® nominee Diane Lane as a Hollywood producer's wife who unexpectedly takes a trip through France, which reawakens her sense of self and her joie de vivre. Anne (Lane) is at a crossroads in her life. Long married to a successfully driven but inattentive movie producer (Alec Baldwin), she finds herself taking a car trip from Cannes to Paris with a business associate of her husband (Arnaud Viard). What should be a seven-hour drive turns into a journey of discovery involving fine food and wine, humor, wisdom, and picturesque sights.
Paris Can Wait opens in theaters May 12, 2017.