'Silicon Valley' Season 4 Trailer: 'I Don't Know, I Think We Look Rad'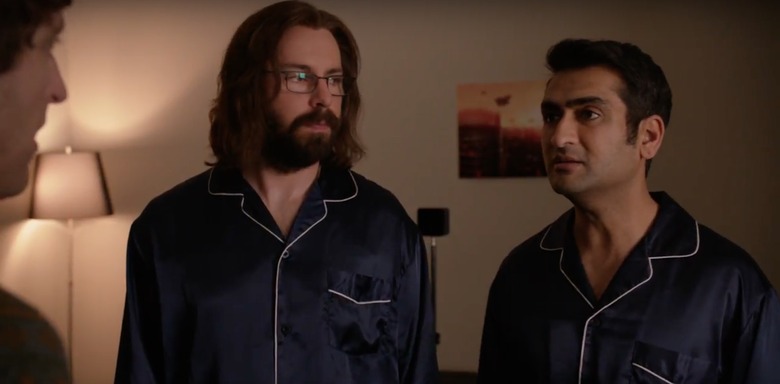 A few weeks ago, I called HBO's Veep one of the funniest shows on television. The only reason I couldn't call it the funniest show on television is because Silicon Valley, its partner in comedy on Sunday nights, is a thing that exists. Mike Judge and Alec Berg's series about programmers and corporations and the various messy places they intersect was very funny in its first episodes, but it has only grown more confident (and bleaker) with each passing season.
And since the new Silicon Valley season 4 trailer reveals the show at what appears to be its bleakest, we can probably expect some pretty big laughs.
This trailer has everything fans have come to expect from this series. There's Thomas Middleditch's Richard wearing the face of a "nice guy" while making one disastrous decision after another. There's T.J. Miller's Erlich Bachman being an oblivious blowhard incapable of reading a room or situation. There's Martn Starr's Gilfoyle and Kumail Nanjiani's Dinesh engaging in their weird love/hate friendship that has only grown more adorable with each passing season. And, of course, it wouldn't be Silicon Valley if Zach Woods' Jared wasn't finding new ways to weather pain and humiliation.
Over the past few years, HBO Sunday nights have evolved into a temple of television greatness. First, Game of Thrones would melt faces and then the tag-team of Veep and Silicon Valley would arrive and clean up the mess. When those three shows were grouped together, we were treated to the most entertaining block of television I've seen in my lifetime. Watching these shows without Game of Thrones (which premieres this summer) will be a strange experience.
Thankfully, Silicon Valley has evolved into event television on its own, a comedy that respects its characters, presents real stakes, and isn't afraid to leave a bitter taste in the audience's mouth when necessary. Like Veep, this series throws full-punches, not half-hearted jabs. Its comedy is silly but acidic, a necessary antidote to so much modern nonsense. Both of these shows are going to prove vital in the months ahead as people around the world desperately look for something to help them process the political and technological realms. We're all going to need an excuse to laugh.
Veep season 4 premieres on April 23, 2017. The poster for the season, drawn by cartoonist Daniel Clowes, can be found below.