Watch: Pixar Short 'Dante's Lunch' Introduces Us To The Determined Dog From 'Coco'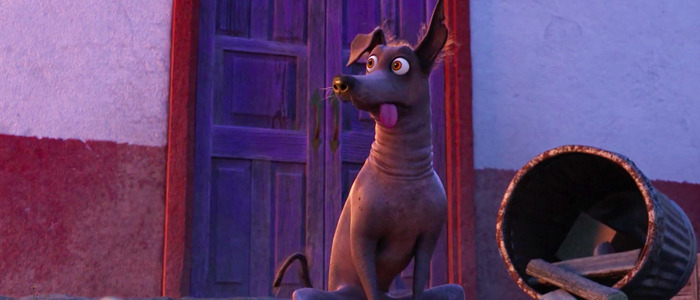 While Disney/Pixar's Finding Dory didn't make a splash at this year's Academy Awards, the studio did take home a trophy for the short film attached that was attached to it, Alan Barillaro's adorable Piper. Now the company has released its latest short, Dante's Lunch, which serves as a nice introduction to the determined, long-tongued dog that will appear in Pixar's Dìa de Muertos film Coco when it comes out later this fall.Yahoo brings us the new short film, which revolves around a dog, his bone, and the unexpected source of that bone:
Dante's Lunch comes from Toy Story 3 director Lee Unkrich, who has been hard at work directing Coco for the past six years. Often, Pixar shorts are directed by up-and-coming filmmakers, but this doesn't seem to be one of the traditional shorts that would play before one of their theatrical movies. Instead, it's an early animation test Unkrich and his team created to get a sense of Dante as a character, and it turned out so well that Unkrich wanted to share it "as a little appetizer until the movie comes out."
Pixar has set an incredibly high bar with their short films over the years, which often tell relatable stories that tap into huge, surging emotions. Dante's Lunch is cute, but I don't think it quite reaches the soaring heights of many of the studio's other shorts on its own. As an introduction to the world of Coco, though, it's wonderful.
Dante is a Xolo, a Mexican hairless dog that's the country's national canine. While doing research for Coco, the animators discovered that Xolos are genetically prone to lose teeth, which results in their tongues lolling out of their mouths. As you can see in Dante's Lunch, they took that idea and ran with it when incorporating it into this character. "We thought we would kind of embrace that and make it part of Dante's character," Unkrich explained. "So his tongue is almost its own character, separate from him."
For those who don't know, Coco tells the story of a Mexican boy named Miguel (Anthony Gonzelez), who loves music and travels into the land of the dead to meet his idol, a dead musician named Ernesto De La Cruz (Benjamin Bratt). Along the way, he learns about his family's history and attempts to earn their blessing to bring music back into their home for the first time in generations. You can watch the teaser trailer here.
Cars 3 is the next Pixar feature film to hit theaters, and a short film called Lou will play in front of that movie when it debuts on June 16, 2017. Coco hits theaters on November 22, 2017.