Amy Poehler And Nick Offerman Reunite With NBC To Host 'The Handmade Project'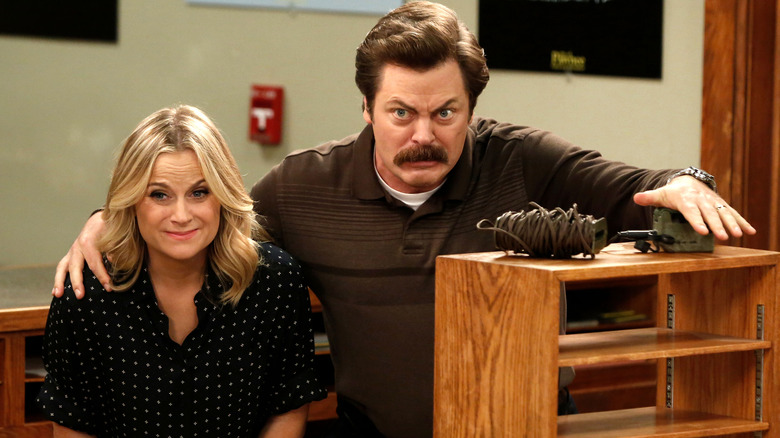 We may receive a commission on purchases made from links.
Leslie and Ron are back together again!
Amy Poehler and Nick Offerman are planning to fill the hole in our hearts left by the Parks and Recreation finale (I know it was two years ago, I'm still not over it!) with the purest reality show you've possibly ever heard of: The Handmade Project. And they are reuniting on NBC, the network that gifted us with Parks in the first place, to host the competitive crafts-making reality show.
I always knew Nick Offerman was an avid woodworker, even publishing a book on woodworking and opening his own woodshop, but I never knew that Amy Poehler was a such a crafts enthusiast. But according to Deadline, Poehler and her company Paper Kite Productions were the ones who spearheaded this project, which was just picked up by NBC for a six-episode straight-to-series order.
"I'm thrilled to be celebrating artists who make things by hand, and I'm looking forward to finally conquering my fear of paper mache," Poehler joked in the release announcing The Handmade Project.
Meanwhile, Offerman offered a peek into what his hosting persona would be like, delivering a polite statement with his typical dry humor.
"People who make things are my favorite kind of folk," Offerman said. "Practical, clever and terrific in a pinch. That makes me tickled pink to have a front row seat at this prodigious display of talent, and admiring and cheering on an amazing crop of American makers. Plus, Amy and I have a strong tradition of tomfoolery so let's see if we don't have some good fun."
Here's NBC's summary of what The Handmade Project will encompass:
Each week eight all-around makers, from all walks of life, will take on a series of projects with the hopes of impressing Poehler, Offerman and our expert judges. Over the course of each episode, the contestants must tackle a different theme, hand-making items in different disciplines — the difficulty of which increases with every episode until a winner is crown. Shot in an outdoor setting, the series will also focus on the characters and camaraderie of those who enjoy creating their own crafts, all under the comedic guidance of Poehler and Offerman.
It seems like NBC is gunning for The Great British Bakeoff crowd, a similarly quirky and irreverent competition show hosted by two British comedians who spend the time making baking innuendos while amateur bakers just do their best. The wholesome reality show has recently seen a surge in popularity, especially after being made available on Netflix.
So can Poehler and Offerman match the huge cult success of The Great British Bakeoff? I don't much care, as long as we get to see the two of them on our TV screens again.
And because I'm emotional over the two best characters of Parks and Recreation reuniting, here's a mashup of their greatest moments:
The Handmade Project is casting, and is open to contestants of all ages. You can apply at handmadeprojectcasting.com.