'Valerian And The City Of A Thousand Planets' Trailer: Director Luc Besson Takes Us Out Of This World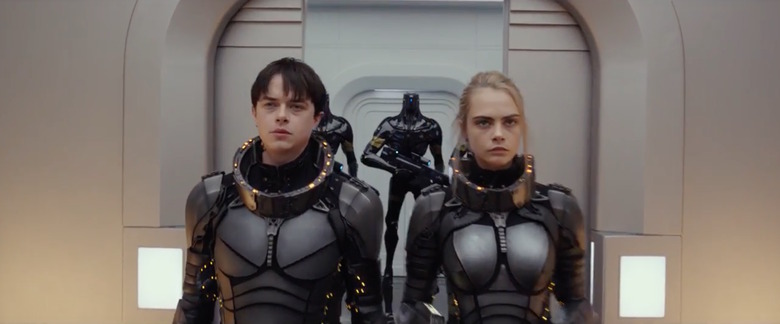 Even when I don't love Luc Besson's movies, I love that Luc Besson is making movies. I especially love that he's getting to make another colorful, over-the-top science fiction action movie, his first of this size and scope since The Fifth Element. Valerian and the City of the Thousand Planets looks absolutely nutty in the best possible ways, with the city of Alpha looking like an ideal playground for Besson to scratch every single sci-fi itch he has left. Watch the new trailer below.
Based on the French comic series Valérian and Laureline from writer Pierre Christin and illustrator  Jean-Claude Mézières, Valerian and the City of the Thousand Planet casts Dane DeHaan and Cara Delevingne as agents for a special group tasked with maintaining order throughout outer space. Their latest mission takes them to a sprawling metropolis that is home to countless alien species and cultures (hence the title of the movie), where there is all kind of action and derring-do to be found.
While I wonder if DeHaan and Delevingne have the necessary action star charisma to really dig in and sell these characters (I'm rooting for them both!), Besson's knack for visuals looks to be the key selling point here. Sure, we've seen a whole bunch of CGI alien worlds over the past decade or so, but this one looks so detailed and so weird and so lively that it stands out from the pack.
Here's the official synopsis for Valerian and the City of the Thousand Planets:
Valerian (Dane DeHaan) and Laureline (Cara Delevingne) are special operatives for the government of the human territories charged with maintaining order throughout the universe. Valerian has more in mind than a professional relationship with his partner, blatantly chasing after her with propositions of romance. But his extensive history with women, and her traditional values, drive Laureline to continuously rebuff him.
Under directive from their Commander (Clive Owen), Valerian and Laureline embark on a mission to the breathtaking intergalactic city of Alpha, an ever-expanding metropolis comprised of thousands of different species from all four corners of the universe. Alpha's seventeen million inhabitants have converged over time- uniting their talents, technology and resources for the betterment of all. Unfortunately, not everyone on Alpha shares in these same objectives; in fact, unseen forces are at work, placing our race in great danger.
Valerian and the City of the Thousand Planets opens in theaters on July 21, 2017.