Aaron Sorkin Is Taking Meetings With DC And Marvel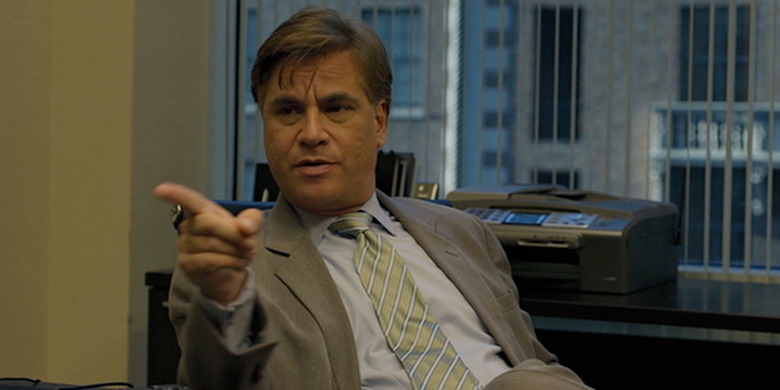 Can you imagine Bruce Wayne and Diana Prince doing a classic walk and talk through the hallways of Wayne Enterprises? How about Spider-Man and Hawkeye exchanging not just a throwaway line or two, but having an epic back-and-forth conversation full of quotable one-liners? Well, the future is wide open, because Oscar-winning writer Aaron Sorkin (The Social Network, A Few Good Men) says he has meetings scheduled with both Marvel Studios and DC Films to discuss the possibility of writing a superhero movie. But which property would he tackle?
Sorkin broke the news of his upcoming meetings to ComicBook.com:
"I happen to have meetings coming up with both DC and Marvel. I have to go into these meetings and tell them as respectfully as I can that I have never read a comic book. It's not that I don't like them, it's just that I've never been exposed to one. So I'm hoping that somewhere in their library is a comic book character that I'm going to love and that I'm going to want to go back and start reading from the first issue on."
So, let's imagine that they find a character Sorkin enjoys enough to take on. What next?
The Contenders
So which comic book heroes best fit Sorkin's rapid-fire style of dialogue? On the Marvel side of the equation, I think Tony Stark would be the best possible fit. In many ways, Tony is the prototypical Sorkin character: a rich, sarcastic genius with commitment issues and a penchant for giving condescending speeches. And you know Robert Downey Jr. would absolutely love to sink his teeth into a long, Sorkin-penned monologue. But frankly, I think Tony and the rest of the MCU are doing mostly fine on their own without him. DC, on the other hand...
Regardless of what you think about Batman v Superman and Suicide Squad, everyone can probably agree that both of those scripts could have used some work. (Right guys? We can all agree on that, can't we?) Sorkin seems like he could be the knight in shining armor that DC has been waiting for: he's a fantastic writer capable of breathing new life into the studio's iconic characters and giving them something they've all sort of lacked in the past few years: a genuine personality. As Zack Snyder looks to possibly transition away from these characters after Justice League, perhaps Sorkin could be the one to give a strong, authoritative voice to the team moving forward.
I'd specifically love to see his take on Batman, but I think he could also work wonders with a motor-mouthed character like the Flash, which seems to be a project that the studio is struggling to mount right now. With Sorkin's directorial debut Molly's Game under his belt and awaiting release, I wonder if he would be interested in directing an upcoming superhero film as well as writing one.
Which character do you think would be the best fit for Sorkin's trademark style?