Mondo Announces New Disney-Themed Gallery Show 'Never Grow Up'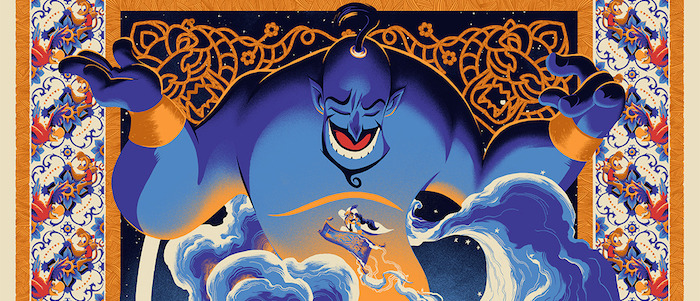 Just when you thought you could put your wallet away and stop fretting over the dwindling wall space in your home, Mondo has to go ahead and announce a new gallery show built around Disney animated movies. A collaboration between the ever-popular pop culture art company and Cyclops Print Works, Never Grow Up: A Disney Art Show will open to the public next month. But three posters have arrived with the announcement: 101 Dalmatians, Aladdin, and Big Hero 6.
The gallery is set to open in Austin, Texas on April, 28, with a "Mondo Clubhouse" kids party following on April 29, complete with "Disney-inspired treats, face painting, photo booth, and other fun activities." The show itself will run through May 13. As usual, posters that don't sell out at the location will become available for purchase online.
As expected, the three posters revealed so far are absolutely stunning, with each artist paired to a movie that suits their sensibilities.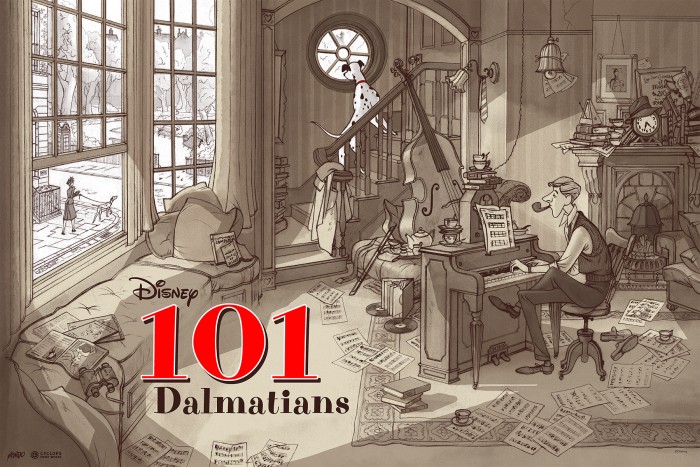 First up, here's 101 Dalmatians by Jonathan Burton, which perfectly captures the scrappy look of the original movie. He had this to say about his work:
I think that 101 DALMATIANS is the most beautiful of the Disney films, principally as it was the first time they used the artists' original line drawings in the final cells through the process of the copy machine. The line work is sketchy, the color misaligned and it makes for a style full of life. My poster pays tribute to this, and in particular the rough production drawings of Disney's Ken Anderson who himself was inspired by Ronald Searle.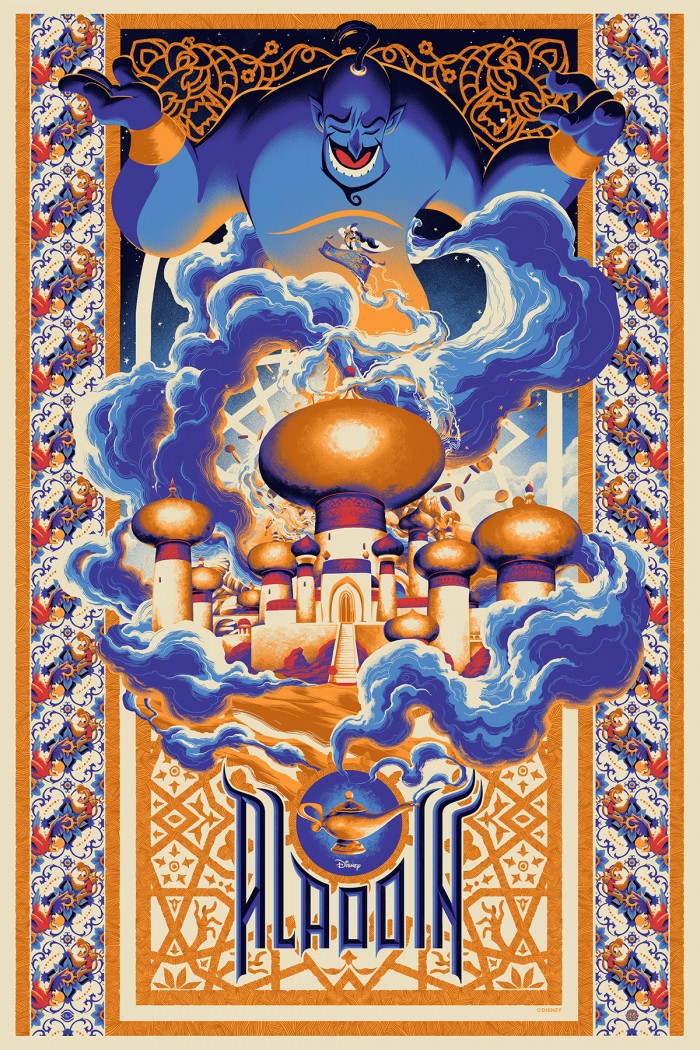 Matt Taylor is a great fit for the fantastical imagery of Aladdin and he blends Disney iconography with more traditional artistic touches:
I think ALADDIN is peak modern Disney, so having the chance to do my own take on it is pretty much a dream project. I wanted to try and incorporate some classical Arabian styling and decoration into the piece, but I think the most enjoyable part was getting to draw that Genie busting out of the lamp. The first Mondo/Disney show was one of my all time favorites that they have thrown, and I'd been hoping that they'd go back to the well. I've got one wish granted now, better figure out what to do with the other two...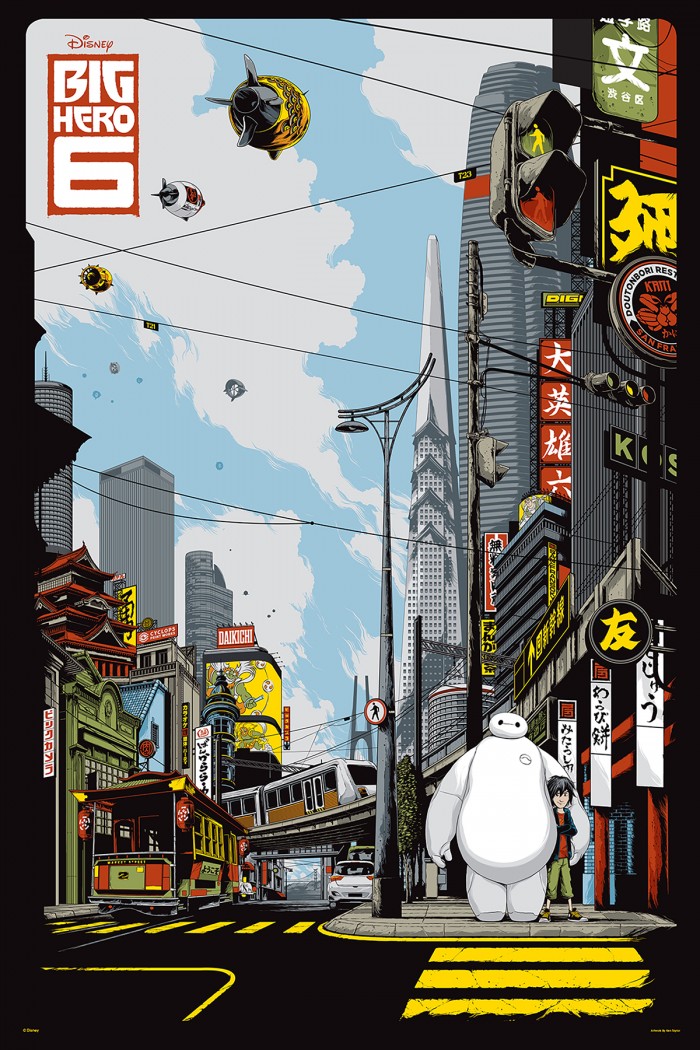 And finally, here's Ken Taylor's Big Hero 6, which is hyper-detailed and a lot more colorful than his normal work:
Watching a Disney movie together with my kids is amazing, but making artwork for one of their favorite films takes it to the next level. BIG HERO 6 is my eldest daughters favorite, and I love so much about this film. The story is super fun but its the city that gets me in – the opportunity to draw San Fransokyo has been a blast and one of the best film poster experiences i have had. Hopefully folks dig it as much as I do.
Here's the complete list of participating artists, an incredible line-up of Mondo regulars and newcomers:
Rosemary Valero-O'Connell
The Mondo Gallery is located at 4115 Guadalupe Street in Austin, TX, should you be able to make it in person. Otherwise, we'll have more for you to see when it opens.