'Moonlight' Director Barry Jenkins To Adapt 'The Underground Railroad' Series For Amazon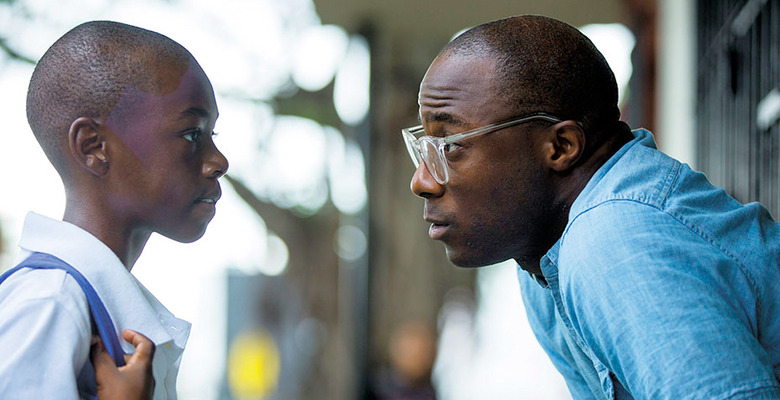 After a stunning Best Picture win for Moonlight at the Oscars, Barry Jenkins is ready to embark on his next project. And he's making the move over to television. Jenkins is set to write and direct a TV series adaptation of the 2016 bestseller The Underground Railroad for Amazon.
Amazon announced the one-hour Underground Railroad series on Monday, which will see Jenkins reteam with Moonlight producers Pastel and Plan B Entertainment to adapt Colson Whitehead's novel.
An Oprah's Book Club 2016 selection, New York Times bestseller, and the winner of the 2016 National Book Award for Fiction, The Underground Railroad imagines the famous Underground Railroad as a literal underground subway system, full of engineers, conductors and a secret network of tracks and tunnels beneath the Southern soil. The novel follows Cora, a fugitive slave who makes a desperate bid for freedom in the antebellum South, escaping her Georgia plantation for the rumored Underground Railroad.
Jenkins expressed admiration for Whitehead's novel in a press release announcing the news:
"Going back to 'The Intuitionist,' Colson's writing has always defied convention, and 'The Underground Railroad' is no different. It's a groundbreaking work that pays respect to our nation's history while using the form to explore it in a thoughtful and original way. Preserving the sweep and grandeur of a story like this requires bold, innovative thinking and in Amazon we've found a partner whose reverence for storytelling and freeness of form is wholly in line with our vision."
The series is in development, though a start date hasn't yet been announced. Jenkins' The Underground Railroad will be one of two anticipated dramas on the subject, with WGN America's Underground recently kicking off its explosive second season.
This won't be be Jenkins' first TV gig. He recently directed an episode of the upcoming Netflix adaptation of the film Dear White People, and previously directed one episode of the PBS series Futurestates.
Jenkins isn't be the first director to follow up Oscar buzz by heading to the small screen. Selma director Ava Duvernay found creative and critical success with the OWN TV series Queen Sugar, which she co-created, executive produced and directed. Duvernay has used her time working on Queen Sugar to flex her creative muscles and scope out future projects, last year directing the award-winning documentary 13th, and recently wrapping the Disney adaptation of A Wrinkle in Time.
TV could be a good move for Jenkins, whose indie coming-of-age film Moonlight was a surprise hit and has shaken up the industry before and after its surprise Best Picture win. But it takes a lot to exact change in Hollywood and indie directors — unless they're white, male and plucked out of obscurity to direct a blockbuster — usually find it difficult to reach mainstream success. So exploring out-of-the-box options with a streaming service like Amazon could open up new opportunities in both film and TV for Jenkins.
And Amazon has made a habit recently of approaching award-winning movie directors, such as Woody Allen and Whit Stillman, to sign on for television projects. It's still yet to be seen whether movie directors make for great TV directors, but it's an exciting and disruptive time for the movie and TV industry all the same.