'Fargo' Season 3 Extended Trailer: The Gloves Are Off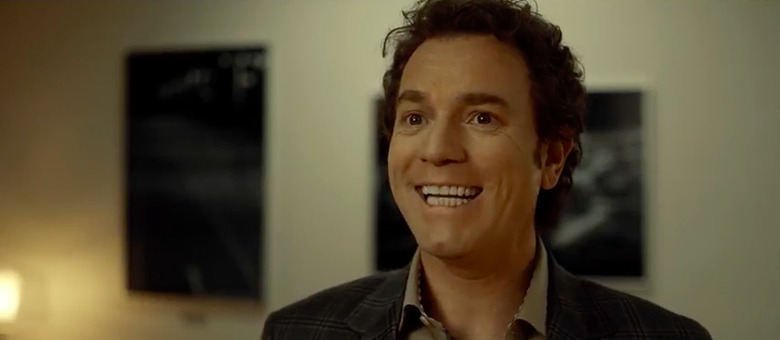 "Pitchfork peasants with murders in their eyes" are coming, V.M. Vargas (David Thewlis) warns viewers in the new preview for Fargo season 3. Vargas is most likely talking to the man with the overwhelming smile shown above, the Parking Lot King of Minnesota, Emmit Stussy (Ewan McGregor). What sort of trouble Emmit finds himself in on the show is still a mystery, but it's safe to expect a touch of murder and plenty of laughs.
Below, watch the Fargo season 3 extended trailer.
The new trailer for Fargo is longer than the others we've already seen, but it doesn't reveal a great deal more than the delightfully cryptic TV spots or the previous trailer. The advertisements, much to our benefit, haven't explicitly shown us what sort of crimes and bad choices are committed in the new season of Fargo. So far, the commercials have mainly highlighted a new ensemble of characters we can't wait to watch.
Here's the latest look at Fargo season 3:
This trailer leaves me looking forward to Nikki Swango (Winstead) and Ray's supportive relationship, which seems like one of the season's more heartfelt elements. After all, seasons 1 and 2 both have heart go along with the pain and misery. The show typically has at least a few kind-hearted and well-intentioned characters, like season 2's Hank Larsson (Ted Danson), simply trying to make sense of a world growing weirder and darker. Some of Fargo's characters have their heads screwed on their shoulders, and it looks like Swango might be one of those characters.
Here's the official synopsis for Fargo season 3:
Set in 2010, the third installment of Fargo centers on Emmit and his slightly younger brother Ray Stussy (Ewan McGregor). Emmit, the Parking Lot King of Minnesota, sees himself as an American success story, whereas Ray is more of a cautionary tale. Forever living in his more successful brother's shadow, Ray is a balding and pot-bellied parole officer with a huge chip on his shoulder about the hand he's been dealt – and he blames his brother. Their sibling rivalry follows a twisted path that begins with petty theft but soon leads to murder, mobsters and cut-throat competitive bridge.
Carrie Coon stars as Gloria Burgle, the steady chief of the local police department. A newly divorced mother, Gloria is trying to understand the new world around her, where people connect more intimately with their phones than with the people around them. Mary Elizabeth Winstead stars as Ray's girlfriend, Nikki Swango, a crafty and alluring recent parolee with a passion for competitive bridge. David Thewlis stars as V.M. Vargas, a mysterious loner and true capitalist whose bosses plan to partner with Emmit, whether The Parking Lot King likes it or not.
Fargo returns April 19, 2017 on FX.