'Godzilla: King Of Monsters' Brings In 'Straight Outta Compton' Star O'Shea Jackson Jr.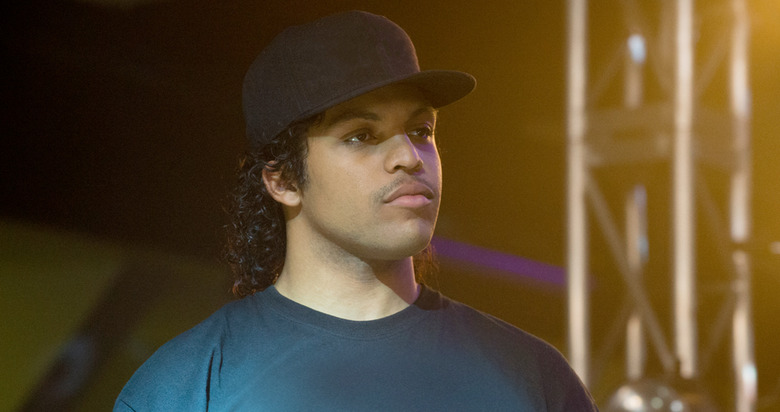 Following Straight Outta Compton, the stars who played the core members of the groundbreaking rap group NWA became quickly rising stars. Jason Mitchell played Eazy E, Corey Hawkins played Dr. Dre and O'Shea Jackson Jr. stepped into the shoes of his father as Ice Cube. Since then, Hawkins went on to lead 24: Legacy while Mitchell took a solid supporting turn in the comedy Keanu and made a huge splash with an award-worthy performance in the Sundance selected Mudbound. Then they both went on to play key supporting characters in Kong: Skull Island. Now their NWA partner is joining the same movie monster universe.
O'Shea Jackson Jr. is currently in talks to take a role in Godzilla: King of Monsters, the sequel to the 2014 blockbuster directed by Rogue One: A Star Wars Story helmer Gareth Edwards, who won't be back this time around. Find out more below.
Right now, details are rather slim on the Godzilla sequel that's slated to arrive on March 22, 2019. At one time, Edwards was supposed to come back to direct, but now, those duties have landed in the hands of Krampus director Michael Dougherty, who co-wrote the script with Zach Shields. Sadly, there are almost zero story details available aside from Godzilla being back.
As for human characters in the Godzilla 2 cast, Variety indicates that Ken Watanabe is the only cast member who is likely to return from that first movie for the sequel. That makes sense, as his character is a key researcher in the Monarch organization and is the guy who made the government aware of the existence of Godzilla to begin with.
There will be plenty of new blood this time around thogh, with Super 8 star Kyle Chandler on board along with The Deprated actress Vera Farmiga and Stranger Things star Millie Bobby Brown. As for Jackson, there's no word on who he is playing, but his addition to the cast is a big deal for what looks like a promising career.
When O'Shea Jackson Jr. debuted in Straight Outta Compton, he gave an impressive performance that was aided perfectly by him just looking like his father. Because of that natural assist in his performance, I wondered if he could have a real acting career outside of that role. Then I saw him in the Sundance comedy Ingrid Goes West (read our review here), where he displays plenty of charm and some outstanding comedic timing. There's plenty of versatility here and it indicates that he will have a future career as bright as those of Jason Mitchell and Corey Hawkins.
We're not sure when Godzilla: King of Monsters is looking to start production, but with a spring 2019 release date, it could be before the end of the year. Kong: Skull Island certainly got Godzilla fans excited with a credits stinger that teased the arrival of even more monsters on the horizon, so maybe Legendary and Warner Bros. are looking to get into production sooner than later. Stay tuned.