'True Detective' Season 3 Is Back From The Dead With David Milch On The Squad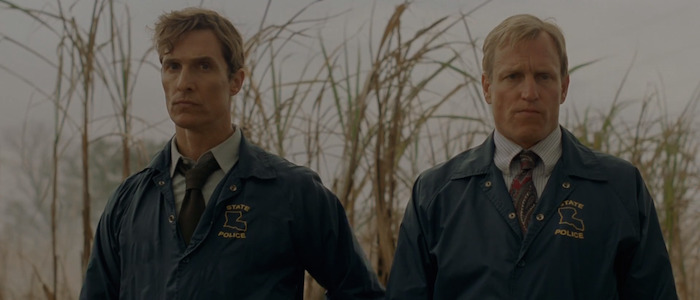 Like a decades-old murder case where the deranged killer was never caught, HBO's True Detective won't stay buried. While the show has been on indefinite hiatus since the end of its deeply unpopular second season, it sounds like the once-beloved anthology mystery show may be lurching back into life with the help of a television veteran responsible for some of the greatest shows of all time. Are you ready for True Detective season 3?
Entertainment Weekly reports that series creator and writer Nic Pizzolatto has penned the first two episodes of a potential third season. More importantly, he has someone standing over his shoulder: David Milch, the creator of NYPD Blue and Deadwood, and one of the television medium's bonafide mad geniuses. The only thing more entertaining than the stories of Milch's sets, where chaos reigns and last-minute rewrites are commonplace, is the television he actually creates. He is a superb storyteller, a master dialogue writer, and the exact kind of person you'd want to see nudging Pizzolatto in the right direction.
Right now, it's not clear to what extent Pizzolatto and Milch are collaborating, but it's easy to imagine them gelling quite well. Both men have excelled in telling stories of broken masculinity and bad decision-making in dangerous places. They're obsessed with haunted anti-heroes whose greatest strengths fuel their greatest weaknesses. After True Detective season 2, it was increasingly clear that Pizzolatto could use a guiding hand to help keep him on track. Could Milch be the guy for the job?
It must be noted that True Detective season 3 has not been greenlit and that everything is still in the earliest stages. This could happen or it could not happen. The important thing right now is that a third season hasn't been completely tossed and forgotten.
The first season of True Detective remains a masterpiece, a mesmerizing blend of horror and police procedural that was so specific and unique that it seemingly defied parody. The second season, which featured a brand new cast and location, somehow proved the first season wrong by descending into self-parody. While I got along quite well with season 2's absurd characters, hilariously indecipherable plot twists, and dialogue that felt like it was written with a Thesaurus proudly propped up next to the keyboard, I was very much in the minority. True Detective season 2 remains a perfect modern example of a clearly talented storyteller completely falling off the rails.
True Detective season 1 benefitted from Pizzolatto having director Cary Joji Fukunaga around for all eight episodes and the stories of them bumping heads during production speak volumes. They made each other's work better. If True Detective season 3 comes into being, I hope HBO and Pizzolatto realize that some of the best art is born from artists challenging one another. Then again, maybe that's why Milch is around in the first place.