Netflix Throws More Money At Adam Sandler, Adds Four Movies To His Exclusive Deal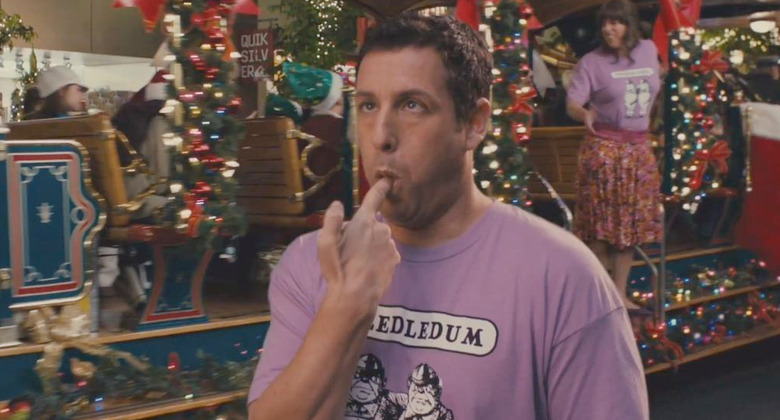 Netflix loves being in business with Adam Sandler.
A few years ago, the streaming service struck a deal with the Saturday Night Live veteran turned comedy superstar that included the exclusive rights to four Adam Sandler vehicles. Even though there's still one movie left in the Adam Sandler Netflix deal, the streaming service wanted to make sure they locked him down for even more. So they're making even more.
Netflix has announced (via Variety) that they have just struck a deal to finance, produce and distribute four more Adam Sandler movies that will be available exclusively through their streaming service. Here's what Sandler said in a statement about the deal expansion:
"Love working with Netflix and collaborating with them. I love how passionate they are about making movies and getting them out there for the whole world to see. They've made me feel like family and I can't thank them enough for their support."
Just as when the first deal was announced, we have no idea what the movies will be called or what they will be about, but if the first round of movies that were created by Adam Sandler and his Happy Madison Productions banner are any indicator, they won't be any good.
From the first Netflix deal with Adam Sandler, we've been given The Ridiculous 6, a piss poor attempt at a western comedy. Adam Sandler tried to assemble a cast of his most reliable chuckleheads to bring the laughs, but the result was an abominable version of The Magnificent Seven that felt like it was trying to have the irreverent comedy of Blazing Saddles without any of the sharp wit that Mel Brooks delivered.
Then there's The Do-Over, which teamed Adam Sandler with David Spade for slightly more pleasing but still not impressive results. The movie had some moving parts that reminded me of the comedy Bulletproof, which Sandler made with Damon Wayans back in 1996. I remember enjoying it at the time, but it probably hasn't aged as well as Sandler's more revered comedy from that same year, Happy Gilmore.
Next month, we'll get to see if Adam Sandler has improved at all with Sandy Wexler, a show business comedy that takes us back to the 1990s and brings Oscar winner Jennifer Hudson into the fray. The trailer makes it look like this could be the best of Adam Sandler's Netflix movies thus far, though that's not saying much. If Sandler wasn't putting on a stupid voice, it would be a little more tolerable, but I'm not holding my breath for anything praiseworthy. You can watch the trailer here to see what you think.
No matter how critically panned Adam Sandler's Netflix movies are, the service will likely keep throwing money at him as long as viewers keep watching. Netflix chief Ted Sarandos noted during a roundtable discussion with The Hollywood Reporter that both The Ridiculous 6 and The Do-Over debuted at #1 on Netflix's unseen viewership charts in every single territory where Netflix is available around the world. The same will likely happen with Sandy Wexler. So as long as people keep settling for mediocre comedy, Netflix will keep buying it.