'Tomb Raider' First Look Reveals Alicia Vikander's Lara Croft [Updated]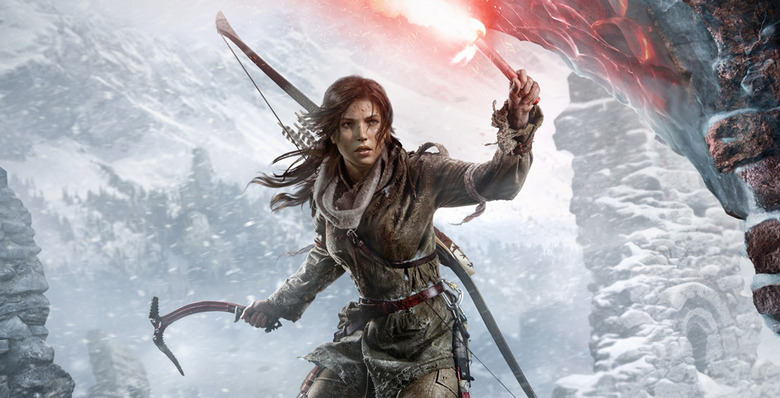 UPDATE: Another new image from the film has been released (along with the official synopsis) and we've added it to the gallery below.
It was impossible to play video games in the '90s without being familiar with Lara Croft, the buxom explorer who became one of the industry's most recognizable mascots. She even got her own movie in 2001, with Angelina Jolie taking on the part. A sequel followed in 2003.
But soon enough, video games grew up and Lara did, too. Our first look at the new Tomb Raider movie starring Alicia Vikander has arrived and her take on this video game icon looks to be very much in line with the rebooted version of the character.
Our first look comes to us courtesy of Vanity Fair, who also supplied new details about the plot of the movie. Although the specific points may differ, the new movie will follow the path of the 2013 video game reboot and focus on a young Lara, back when she was just a millionaire heiress and not a millionaire heiress with a thing for spelunking in dangerous and sometimes supernatural locations. Here are the details:
...[Seven] years after the disappearance of her father, 21-year-old Lara has refused to take the reins of his global business empire, instead working as a bike courier in London while taking college classes. Eventually she becomes inspired to investigate her father's disappearance and travels to his last-known location: a tomb on an island somewhere off the coast of Japan.
As gamers may remember, the rebooted game was also set on island off the coast of Japan, where Lara is forced to fight for her life when she discovers that she's not alone. Although Vikander is wearing Lara's trademark tank top in the images below, the style is very much in line with the modern version: tough, practical, and more than a little battered from her adventures.
Vikander, who won an Oscar for The Danish Girl but should have won it for Ex Machina, is very intriguing casting for this part. She lacks the movie star magnetism of Angelina Jolie, but that feels like the point. This version of Lara cannot and should not make the action hero thing look effortless or easy. I'm a big fan of how the new games humanize an icon and make her someone we root for rather than idolize and it certainly looks like the new movie will be following suit.
Tomb Raider is the Hollywood debut of Roar Uthaug, the director the very entertaining Norwegian disaster movie The Wave, and it's set to open on March 16, 2018.
Lara Croft is the fiercely independent daughter of an eccentric adventurer who vanished when she was scarcely a teen.  Now a young woman of 21 without any real focus or purpose, Lara navigates the chaotic streets of trendy East London as a bike courier, barely making the rent, and takes college courses, rarely making it to class.  Determined to forge her own path, she refuses to take the reins of her father's global empire just as staunchly as she rejects the idea that he's truly gone.  Advised to face the facts and move forward after seven years without him, even Lara can't understand what drives her to finally solve the puzzle of his mysterious death.
Going explicitly against his final wishes, she leaves everything she knows behind in search of her dad's last-known destination: a fabled tomb on a mythical island that might be somewhere off the coast of Japan.  But her mission will not be an easy one; just reaching the island will be extremely treacherous.  Suddenly, the stakes couldn't be higher for Lara, who—against the odds and armed with only her sharp mind, blind faith and inherently stubborn spirit—must learn to push herself beyond her limits as she journeys into the unknown.  If she survives this perilous adventure, it could be the making of her, earning her the name tomb raider.