'Pirates Of The Caribbean: Dead Men Tell No Tales' Trailer: Are All Pirates This Stupid?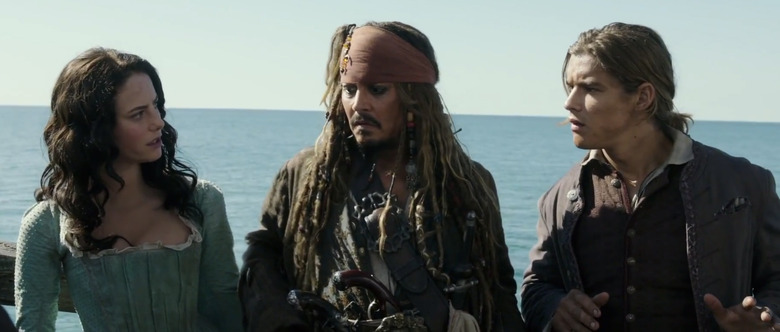 Because box office is king, we're getting another Pirates of the Caribbean movie whether we like it or not. The jury is still out as to whether this will be the last film in the franchise or if Disney is just on the verge of relieving Johnny Depp of his nautical duties as Captain Jack Sparrow and handing the film series off to new blood instead. All we know is Jack Sparrow's past comes to haunt him when a pirate hunter (Javier Bardem) he cursed in his younger years comes back to get revenge on the rum-soaked pirate.
A new Pirates of the Caribbean: Dead Men Tell No Tales trailer surfaced online this weekend, and while it features some bits that we already saw in the most recently released theatrical trailer, it also gives us some new moments with franchise newcomers Kaya Scodelario and Brenton Thwaites, as well as some information on where pirates fall on the necessity of pants.
Watch the new Pirates of the Caribbean Dead Men Tell No Tales trailer below.
It's a quick trailer, and it feels like Disney is really trying to push the new cast members, perhaps the duo that will become the new Orlando Bloom and Keira Knightley of the franchise. Keep in mind that Orlando Bloom and Keira Knightley are supposed to have roles in this movie as well, so there's just as much of a chance that they'll stick around for more than this sequel.
Otherwise, Geoffrey Rush is back as Captain Barbossa, and legendary Beatles member Paul McCartney is supposed to have a cameo of some kind, though we don't know what role is play. Presumably it will be a pirate, but since that's what everyone is expecting, maybe it will be something completely different. Sadly, Keith Richards doesn't seem to be coming back, so we won't get to see the two rock stars on the high seas together.
Pirates of the Caribbean: Dead Men Tell No Tales is in theaters May 26.
Thrust into an all-new adventure, a down-on-his-luck Captain Jack Sparrow (Johnny Depp) finds the winds of ill-fortune blowing even more strongly when deadly ghost pirates led by his old nemesis, the terrifying Captain Salazar (Javier Bardem), escape from the Devil's Triangle, determined to kill every pirate at sea...including him. Captain Jack's only hope of survival lies in seeking out the legendary Trident of Poseidon, a powerful artifact that bestows upon its possessor total control over the seas.