'The Predator' Enlists Edward James Olmos For Duty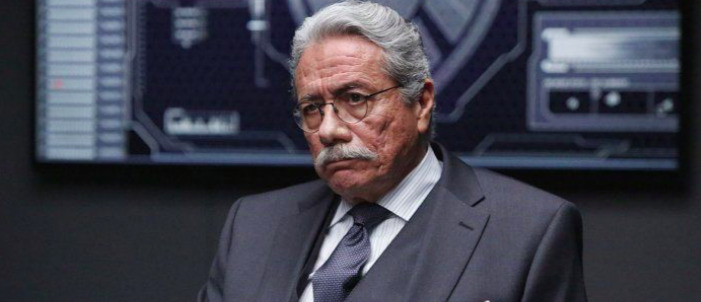 Stand and salute, soldiers: an Admiral has just come on deck. Veteran actor and Battlestar Galactica star Edward James Olmos has joined the cast of Shane Black's The Predator, so if you've ever wanted to know what Adama would look like having his guts torn out by an vicious alien hunter, you just might get your chance to find out. Read on to find out what kind of character he'll play in the new film.
The Hollywood Reporter brings the news, and there are not many details about Olmos' role. All they know is that he'll be playing "a military character," so we can assume he'll probably be barking orders to Boyd Holbrook's unit as they face off against the extra-terrestrial threat.
Olmos is the latest addition to a surprisingly varied cast, which currently includes Logan actor Holbrook, The Punisher star Thomas Jane, Game of Thrones' Alfie Allen, Moonlight's Trevante Rhodes, The People vs. O.J. Simpson standout Sterling K. Brown, Key and Peele's Keegan-Michael Key, X-Men: Apocalypse's Olivia Munn, and the young star of Room, Jacob Tremblay.
That's not exactly the first batch of names I'd think to put together in a battle against one of the most iconic sci-fi creatures of all time, but that's also why Shane Black is Shane Black and I'm not. I think it's safe to say the former BSG star won't necessarily be mixing it up with that group of trained killers in firefights on the ground, but then again, Black does love to subvert audience expectations, so anything is on the table here. Early rumors suggested that the action is moving to the suburbs in this movie, which is a far cry from 2010's Predators, in which the entire film took place on an alien planet. Actual plot details remain guarded.
The Predator is the second big sci-fi sequel in which Olmos will appear in over the next year. The actor is coming off of reprising his role as Officer Gaff from the original Blade Runner in Denis Villeneuve's Blade Runner 2049, which opens this fall. On the small screen side of things, we'll hopefully see Olmos again soon as the patriarch of the Mayans Motorcycle Club in Mayans MC, FX's Sons of Anarchy spin-off. The pilot started shooting this month, and is awaiting a full series pick-up by the network.
The Predator is filming now in Vancouver, and has a release date pencilled in for February 9, 2018. We're less than a year away from a new Shane Black movie, ya'll. Color me excited.