Riz Ahmed Signed On To 'Rogue One' To Play A Completely Different Character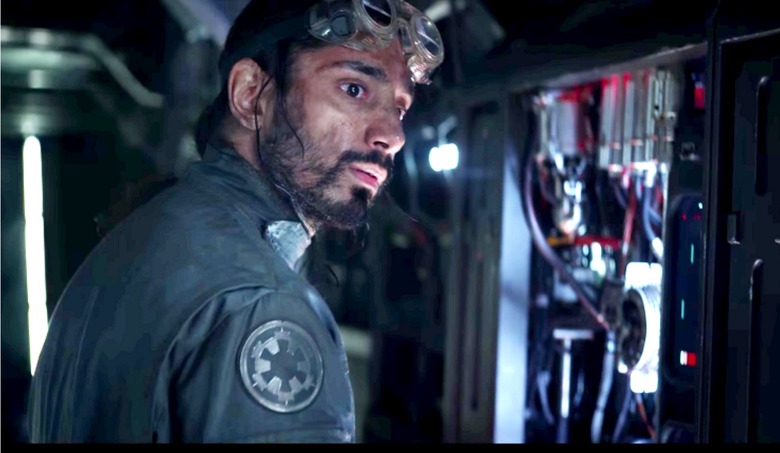 With Rogue One: A Star Wars Story available for digital download, we have been learning a lot more about John Knoll's original pitch for the film, Gary Whitta's original screenplay, and the pre-reshoots cut of Gareth Edwards' movie. The latest bit of trivia gives us some insight on who Riz Ahmed's character, Imperial pilot Bodhi Rook, was in the original plans for the movie.
Let's run down the details about Riz Ahmed's original Rogue One character and how/why the story evolved to what we saw on the big screen.
EW has learned that Riz Ahmed's original character was "a crazed, imprisoned engineer named Bokan." When the actor signed on for the film, it was to play a much different character than we see in the final film. He says:
"His name was Bokan, and he was actually Saw Gerrera's engineer, living on a planet with a strong electromagnetic field, which meant that electronics were never working. He was actually an Imperial engineer who had been kidnapped and kind of had Stockholm Syndrome. He had been living there for so long, he kind of lost it, like Dennis Hopper in Apocalypse Now."
Or perhaps like Samuel L Jackson's character in the Apocalypse Now-inspired Kong: Skull Island.
In the earlier screenplays, Jyn Erso and her rebel team initially wrecked their U-Wing while trying to track down Bokan, who had knowledge about a Death Star exploit and was wanted by both sides of the war. Luckily, the ship crash-landed on the same moon that Gerrera was using as a hideout, where they had been trying to extract the desired information from the former Imperial engineer. This probably explains why Saw Gerrera's alien Interrogation creature Bor Gullet had a bigger role before the reshoots.
Originally Gerrera operated out of a ship graveyard, which is part of the reason the Empire never found him. In this early version of the film, the rebel crew took an Imperial shuttle from the wreckage and used it through the end of the film. In the final version, you see this scene happen on Eadu.  Director Gareth Edwards explains how the character evolved through the process:
"With Riz, we needed a person that was stuck in this life with the bad guys. He had gotten there by accident and the only way he could survive was to play along. Deep down he had guilt. He was going to be one of those characters that was going to help turn this around. He wasn't brave at the start but found bravery in the end. Even though we changed the literal character, that underlining concept stayed intact. We thought it would be stronger if he wasn't Saw Gerrera's guy, but instead he knew Galen. Those sorts of things changed, but the desire for them feels similar."
And we know that the ending of the film was dramatically reworked by extensive reshoots that changed the geography and even deaths of the Rebel crew.
Bodhi originally died during the sequence where the former Imperial runs around with the plug (if you've seen the movie, you know the one). Apparently, there is even a one-minute long, one-shot take that was left on the editing room floor featuring "Bodhi ducking and diving from Stormtroopers" as he tried to "get the plug to where he wanted it to go while Chirrut and Baze were kind of flanking him." Sounds like a cool sequence that, sadly, we'll probably never see. At the end of it, Bodhi was shot and severely injured, forced to crawl his way back onto the ship before his triumphant final moment.
This all makes sense. In the final film, I do feel like Saw Gerrera and Bodhi Rook both feel like the remnants of previous drafts and ideas and never quite realized to their fullest. At least now I know why.