'Three Billboards Outside Ebbing, Missouri' Trailer: Martin McDonagh Is Back And He's As NSFW As Ever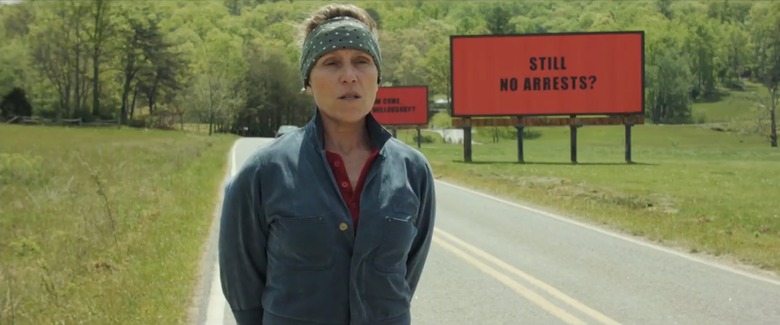 It's been five years since the last Martin McDonagh film and if the trailer for Three Billboards Outside Ebbing, Missouri is any indication, his next movie is worth the wait. The acclaimed Irish playwright turned filmmaker, whose work has always been a profanity-laced bitter cocktail of tragedy and comedy, has turned his lens toward Middle America for a story of small town folks making a series of increasingly poor decisions. Things escalate quickly in McDonagh's stories and this movie looks hysterical and sad and unnerving. In other words, it looks like a Martin McDonagh movie.
The great Frances McDormand plays a grieving mother who's fed up with the lack of momentum on her daughter's murder case. So she rents three billboards outside the town, criticizing the local police. Specifically, she calls out the popular chief of police, played by the also-great Woody Harrelson. One thing leads to another and pretty soon there's more violence and all kinds of property destruction as the whole town starts picking sides. McDonagh's trademark dialogue, caustic and filthy and as funny as it is shocking, is on full display here and the cast appears to be having a great time chewing on it.
Oh, and this is red band trailer. Put those headphones on if you're at work or risk your boss hearing McDormand spout off every four-letter word in existence.
McDonagh won an Academy Awards for his 2005 short film Six Shooter, but he really broke out with 2008's In Bruges. While the film wasn't a hit at the time, it has since become a cult favorite, showcasing Colin Farrell's best performance, dialogue that has to be heard to be believed, and a tone the fluctuates between melancholic and manic without ever losing a beat. It's a masterpiece. His follow-up, 2012's Seven Psychipaths, is pretty good, too.
Three Billboards Outside Ebbing, Missouri also stars Sam Rockwell, Abbie Cornish, Lucas Hedges, Željko Ivanek, Caleb Landry Jones, Clarke Peters, Samantha Weaving, John Hawkes, and Peter Dinklage. There's no release date yet, but it's expected to open later this year. Here's the official synopsis:
After months have passed without a culprit in her daughter's murder case, Mildred Hayes (Academy Award winner Frances McDormand) makes a bold move, painting three signs leading into her town with a controversial message directed at William Willoughby (Academy Award nominee Woody Harrelson), the town's revered chief of police. When his second-in-command Officer Dixon (Sam Rockwell), an immature mother's boy with a penchant for violence, gets involved, the battle between Mildred and Ebbing's law enforcement is only exacerbated.