Woody Harrelson's Han Solo Character Has A Name And It's Not Who You Think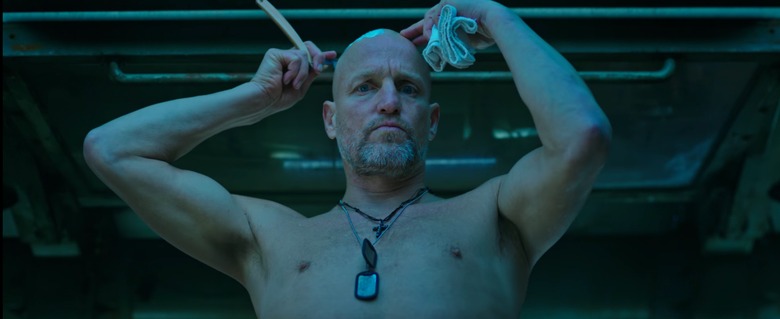 Over the past five years, we've seen Woody Harrelson get involved in some fun franchises like The Hunger Games and Now You See Me. This year, he'll go a little darker with a villainous turn in War for the Planet of the Apes, but his biggest franchise role yet is still on the horizon.
Back in January, Harrelson was confirmed for a role in the developing Han Solo spin-off that will focus on the earlier years of the smuggler before he got caught up in the Rebel Alliance's fight against the Empire. Since then, we've learned that the Woody Harrelson Han Solo character would be a mentor to the beloved scoundrel, one who is also a criminal in his own right. Now we finally have a name for the character.
Harrelson appeared on The Tonight Show with Jimmy Fallon last night to promote his upcoming indie comedy Wilson, and while he couldn't share any major details about the Han Solo movie for obvious reasons, he was able to reveal his character's name. He makes the revelation around the 1:11 mark in the above video, but if you just want to know right now, here's what Harrelson said:
"I play a guy named Beckett, who's kind of a criminal and a mentor to Han. That's all I can say."
Harrelson indicates that he'll be shooting in London until the end of July, which means this is a pivotal character in the movie rather than just a little supporting role. The only problem is that learning the character's name doesn't tell us anything else about the character, because it's a name that cannot be found in Star Wars canon, or even the Star Wars Legends. So who is Beckett?
Really. Who is Beckett?
The only thing we can really take a guess at about Beckett is that the name could be a tribute to Adam Beckett, an employee from Industrial Light & Magic who was also the head of animation and rotoscoping on Star Wars. That means he took care of things like the laser blasts as well as creating the glowing effect of lightsabers. Adam Beckett tragically died in a house fire in 1979, so this would be a nice tribute to his work, and Star Wars movies have a history of honoring people behind the scenes through character names.
There's always a chance that Beckett could be Dr. Samuel Beckett, the character played by Scott Bakula in the series Quantum Leap. Maybe Woody Harrelson is playing Beckett as he has leapt into the body of a man who has to mentor Han Solo before he can leap back into his own body.
Beckett is also the name of a popular pricing guide for sports trading cards. So if Beckett is a criminal, maybe he's dabbling in trading valuable collectible cards in the Star Wars universe. I'm betting that a Sebulba rookie card is probably worth a fair share of galactic credits.
In all seriousness though, just because Harrelson's character is named Beckett doesn't mean he won't be based on any characters from the Star Wars universe that existed before. Lucasfilm has the ability to borrow whatever they want from Star Wars Legends and make it canon, such as introducing Grand Admiral Thrawn into the universe by way of Star Wars Rebels. Therefore, Harrelson's character could easily be some kind of incarnation of Garris Shrike, the character many fans thought he could be playing.
With production on the Han Solo movie now underway in London, we might start to get details leaking online as time goes on. But for now, we know Woody Harrelson's Star Wars character is named Beckett, he probably likes food, and he wears shirts sometimes.