'Captain Planet' The Complete Series Coming To Digital Download Next Month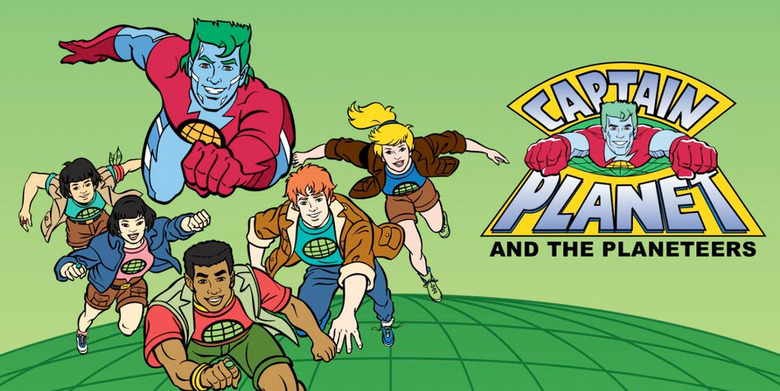 The power is yours! Or at least it will be very soon. Fans who loved harnessing the power of Earth, fire, wind, water and heart haven't been able to relive all the adventures of their hero Captain Planet on home video because only the first season of the animated series has been available on home video. But next month, every single episode will be available.
Captain Planet and the Planeteers, which would later go on to be called The New Adventures of Captain Planet, as well as The All New Adventures of Captain Planet (in case you thought some of them were old adventures) will have all six seasons of the animated series available for digital download. Find out when you can download Captain Planet from the comfort of your home after the jump.
Cartoon Network announced that every individual season and episode of Captain Planet and the Planeteers will be available on April 10 through iTunes, Amazon Video, Google Play, Vudu, Playstation Store and the Xbox Store. The prices of seasons will vary between $14.99 and $9.99 depending on the season while individual episodes will cost $1.99 each.
You might not remember much about the series that rose to fame in the 1990s, but voices in the Captain Planet series included LeVar Burton as Kwame, Whoopi Goldberg as Gaia, Louis Gossett Jr. as Commander Clash and Edward Asner as the subtly named villain Hoggish Greedly. Guest stars contributing their voice to the show included the likes of Jeff Goldblum, Meg Ryan, Martin Sheen, Sting, Malcolm McDowell and more.
This is probably one of those shows that you'll have fun revisiting for a few episodes and then never come back to again. But it'll at least be a fun stroll down memory lane for a little while. Plus, it'll help refresh your memory while Hollywood works on the film adaptation of the environmental hero, which is supposed to be produced by Leonardo DiCaprio.
Captain Planet and the Planeteers centers on a team of five teens from across the globe, including Kwame from Africa, Wheeler from North America, Linka from Eastern Europe, Gi from Asia and Ma-Ti from South America, who are chosen to help defend planet Earth from environmental disasters. Gaia, the spirit of the planet, gives each of the teens a magical ring charged with the power to control an element of nature, including earth, fire, wind, water and the heart. The group of teens become known as the Planeteers and are sent by Gaia to right the wrongs of the Eco-villains who are responsible for causing various environmental damage to the planet. Whenever they encounter a situation they cannot resolve on their own, they combine all their powers to summon Captain Planet, a superhero who has the power to bring catastrophic environmental disasters to an end.