The Official 'Baywatch' Trailer Is Fast And Furious In Slow-Motion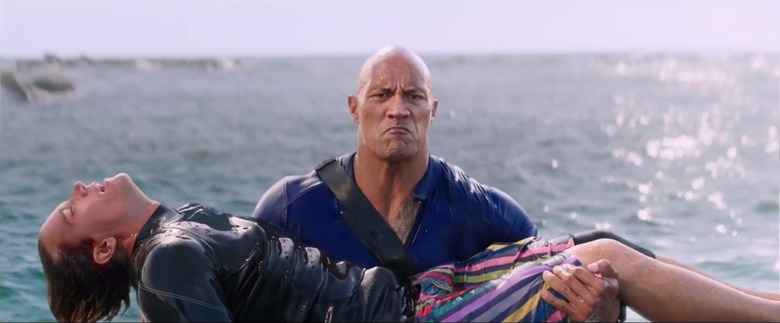 It's up to Dwayne Johnson and Zac Efron to "restore the Baywatch brand." And it seems like that brand is fast, furious and explosive in the new official trailer for Paramount Pictures' Baywatch — with plenty of good old-fashioned slow-mo shots thrown in there as well.
Directed by Seth Gordon (Horrible Bosses), Baywatch updates the sometimes beloved, often-mocked 1990s TV series for the 21st century, giving the franchise a self-deprecating and winking air in the vein of 21 Jump Street.
In the movie, the Baywatch crew is faced with their diminishing relevance, forcing the team to go through a "rebrand," much to the chagrin of  the arrogant lead life guard Mitch Buchannon (Johnson). He naturally butts head with their hotshot recruit, Matt Brody (Efron), who misunderstands the purpose of Baywatch — which is apparently not to save people from sunburns and drowning, as he expects.
The clash of generations is interrupted, however, by the group's discovery of a criminal drug ring run by a slinky Priyanka Chopra, whose Victoria Leeds threatens the Baywatch crew's bravado and dignity. Oh, and she's breaking the law, but that's not as important.
Johnson, Efron and Chopra lead a cast rounded out by Alexandra Daddario, Kelly Rohrbach, Jon Bass and Ilfenesh Hadera, who all gamely flaunt their stuff in those famous skintight red swimsuits.
The most game however is Zac Efron, who seems to bravely take a beating in much of the movie, engaging in a refrigerator-carrying competition against Johnson, getting punched in the face by an unruly swimmer and ultimately donning a dress and wig to "go undercover." It's easy humor, but it's hilarious and Efron carries it off with gusto. Plus "hot frat boy who becomes comedy punching bag" seems to be his brand lately (see: Bad Grandpa, Mike and Dave Need Wedding Dates), and if it works, it works.
And because Johnson's involved, the movie turns into a veritable Fast and Furious spin-off, with jet ski chases, subterfuge, explosions and what looks like...a cannon? If you've ever wondered what the car chase franchise looked like — minus cars — look no further. I'm looking forward to what Johnson does with Jumanji, which I'm now expecting to be Fast and Furious in the jungle.
While the two male co-leads take much of the attention in the trailer, I'm most anticipating Priyanka Chopra, who makes her Hollywood debut in Baywatch. The Bollywood star has an impressive resume on the other side of the world and is gearing up to take over this side of the pond (shout out to anyone who watches Quantico!). A raunch comedy seems like a big 180 for the star, but her fabulous hair in the movie makes up for it. While she only got a few lines in the trailer, I'm looking forward to when she makes it big Stateside.
Baywatch hits theaters May 26, 2017.