'Star Wars Rebels' Season 3 Finale Images And Preview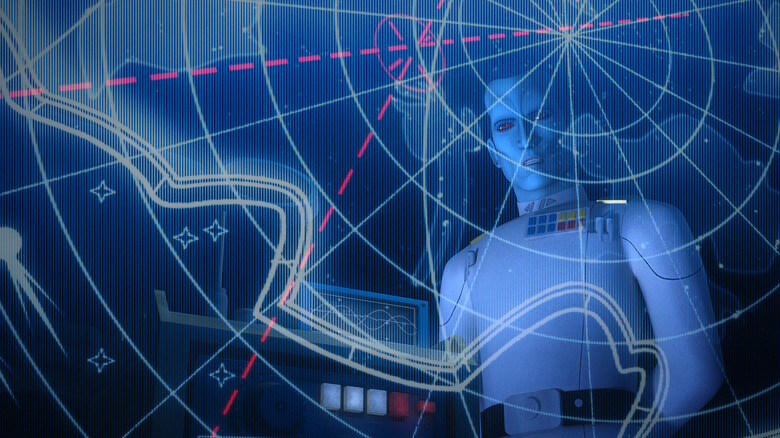 UPDATE: An earlier version of this post mistakenly referred to the season finale as "Twin Suns," which was last week's episode. The finale is titled "Zero Hour."
The Star Wars canon will never be the same again after the Star Wars Rebels season 3 finale, titled "Zero Hour," airs this Saturday.
The highly anticipated two-part finale sees a final showdown between Grand Admiral Thrawn and the Ghost crew, along with one unexpected cameo (although it all has to find a way to live up to last week's Obi-Wan Kenobi/Darth Maul rematch). Before it all comes to a head this weekend, get a sneak peek at some brand-new images and a preview clip from Disney XD's animated show.
Our motley group of rebels aboard the Ghost starship take the spotlight as they face off against Grand Admiral Thrawn in the new images and preview clip released by Disney. "Everything leading up to this moment has been rehearsed," Thrawn intones threateningly in the one-minute clip. "The real performance is about to begin." That doesn't sound good...
The rebels brace against the first wave of attacks by Thrawn and things seem dire for the crew in the grand battle for the fate of the rebellion. You can check out images of the battle, Thrawn and the Ghost crew in the gallery below.
But what about last week's big canon-altering event? The executive producer of Star Wars Rebels, Dave Filoni, gave the juicy details to io9 on the epic rematch between Obi-Wan Kenobi and Darth Maul. Spoilers ahead, of course.
The two first fought in The Phantom Menace when Obi-Wan was "a young brash kid that went into a fight with Maul out of anger for the fact his master was killed," Filoni said. That was no longer the case last week. Filoni tells io9 that their fight is a representation of the prime conflict in Star Wars:
"It really is to express the difference between the Jedi and the Sith. Which is the Jedi become selfless and the Sith remain selfish. When pressed, because Obi-Wan is protecting someone else in the end, he does fight. But because he is so true and knows who he is in that moment, you can't defeat that."
Tune into the Star Wars Rebels season 3 finale on Saturday, March 25, 2017 to see what else this season has in store.