'Black Butterfly' Trailer: Antonio Banderas Is Stuck In His Own Version Of 'Misery'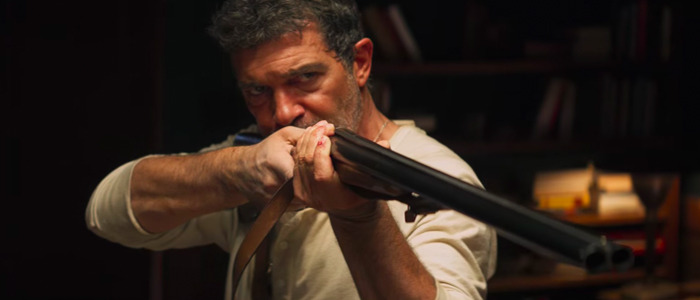 Reclusive writer isolated in the woods? Check. An unhinged companion who's obsessed with his writing? Check. It looks like we might have a loose remake of Stephen King's Misery on our hands with Black Butterfly, a new thriller starring Antonio Banderas and Jonathan Rhys Meyers. Hit the jump to see the first Black Butterfly trailer.
Black Butterfly Trailer
Banderas plays Paul, a struggling writer who holes up in a cabin with the hopes of finishing a new screenplay. But when Paul picks up a drifter (Rhys Meyers) and offers him a place to stay for the night, it quickly becomes apparent that this wasn't Paul's best idea.
Let's just say Banderas should keep an eye on his ankles here because Rhys Meyers is giving me some serious Annie Wilkes vibes. Take a look at the trailer for Rob Reiner's 1990 adaptation of Misery and see if you agree:
Actor/director Brian Goodman (What Doesn't Kill You) is behind the camera for this film, which is a remake of a 2008 French made-for-TV film called Papillon Noir. It looks like a standard B-movie thriller, but interestingly, the idea for this movie initially cropped up back in 2011, and that iteration had Nicolas Cage in the role that Banderas eventually took. That makes me wonder...
Take a look at the tagline on this poster.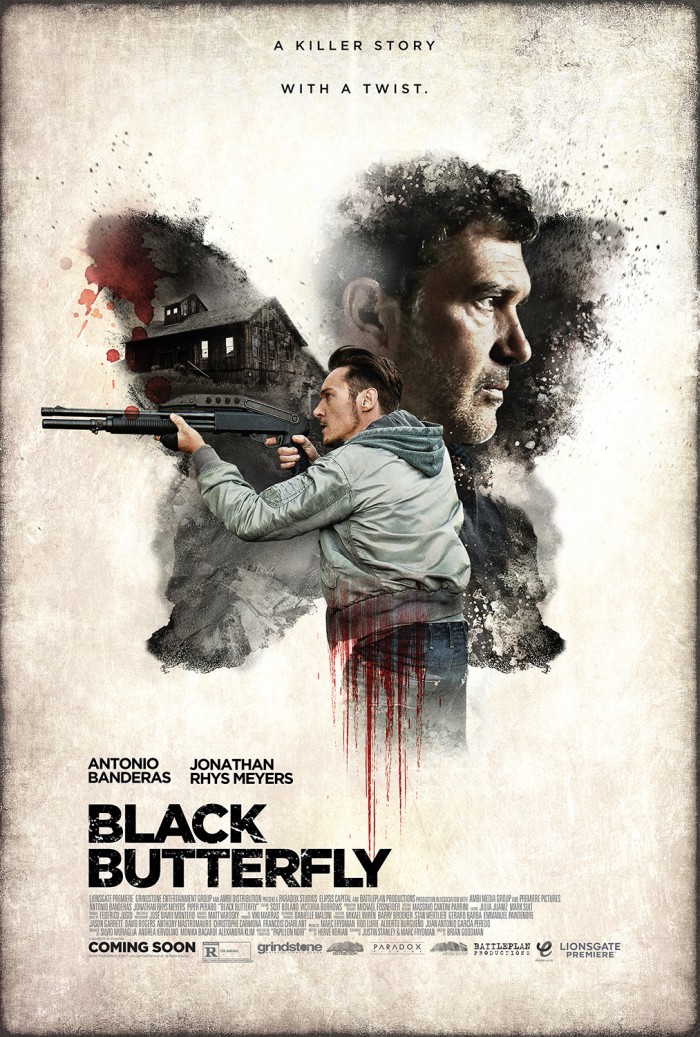 A twist, you say? The idea that things aren't quite what they seem here reminds me of yet another "writer in the woods" movie: the 2004 Johnny Depp thriller Secret Window, which was also based on a story by Stephen King:
Spoilers for Secret Window ahead, but that film ends with the reveal that Depp's author character has dissociative identity disorder and he was the killer the whole time. Black Butterfly can't possibly have that same exact reveal up its sleeve, can it? Although if Nic Cage was once interested in the lead part, I could easily imagine him putting his signature spin on that kind of last-act twist.
I know this movie looks a little bland, but I hope it's at least smart enough to be bland in its own way instead of directly copying something that's come before.
We'll find out when Black Butterfly hits theaters and on demand services May 26, 2017.
Outside a mountain town grappling with a series of abductions and murders, Paul (Antonio Banderas), a reclusive writer, struggles to start what he hopes will be a career-saving screenplay. After a tense encounter at a diner with a drifter named Jack (Jonathan Rhys Meyers), Paul offers Jack a place to stay – and soon the edgy, demanding Jack muscles his way into Paul's work. As a storm cuts off power to the isolated cabin, the two men begin a jagged game of one-upmanship that will bring at least one tale to an end.