'The Sweet Life' Trailer: Chris Messina And Abigail Spencer Hit The Road In A Suicidal Rom-Com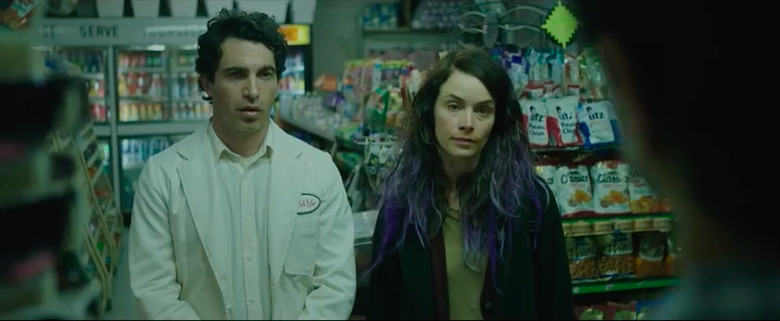 Not all good actors are meant to play leads in romantic comedies. You often need a certain kind of charm to pull it off. Some actors have the natural charisma and vulnerability that's right for the genre, and Chris Messina is one of those actors. Messina is hilarious, goofy, and always real as Danny Castellano in The Mindy Project. He's now starring alongside Abigail Spencer (Timeless) in another slightly dark and somewhat quirky romantic comedy coming out next month.
Below, watch The Sweet Life trailer.
Messina and Spencer play two suicidal love interests on a road trip. For most of their journey to San Francisco, where they both plan to jump off the Gold State Bridge, The Sweet Life is not a love story Spencer's character, Lolita, insists. During their journey from Chicago to San Franciso, though, it might turn into one. They'll experience all sorts of hijinks on their way there, which looks like a tough-to-pull-off mix of quirk and seriousness.
Here's The Sweet Life trailer, which maybe shows us too much from this road trip film and does have one strangely broad sound effect for when the camera quickly pans before cutting to another scene:
The Sweet Life Trailer
Again, this is another trailer where you feel like you've gotten the cliff notes for every story beat. Nonetheless, the latest directorial effort from Rob Spera looks like an enjoyable and, despite a quirky joke or two that may work better in the context of the movie, natural. He has two charismatic actors starring in his film, and they appear to be a well-matched pair. Spera has directed all sorts of features and television episodes, including Leprechaun in the Hood and episodes of Criminal Minds and Army Wives. His latest, which Jared Rappaport (Days of Our Lives) wrote, picked up some positive reviews last year when it premiered at the Los Angeles film festival.
Here's the spoiler-heavy synopsis:
Kenny Parker and Lolita Nowicki are a disillusioned couple who meet by chance on the La Salle Street Bridge in Chicago and form a pact to drive cross country to the Golden Gate Bridge...to jump... together. Unfortunately, the suicide pact is the only thing they can agree on and the cross-country trip becomes a series of comic misadventures that lead to a climactic resolution on the Golden Gate Bridge where Kenny learns the value of true love and sacrifice.
The Sweet Life will be available to rent digitally and on On Demand starting April 7, 2017.