'Ren And Stimpy' Will Not Be Part Of Any Nicktoons Reboot Or Movie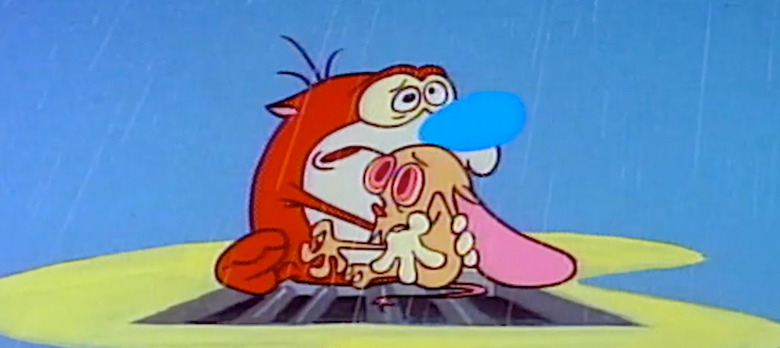 Back in the fall of 2015, news surfaced that Paramount Pictures was working on a live-action animated hybrid movie that would bring back some of the staple Nicktoons from the '90s era of Nickelodeon. Since then, Napoleon Dynamite director Jerusha Hess was brought on as director, but it's been over a year and we haven't heard any significant updates on the project. However, we did just find out that one Nicktoon thought to be included won't show up in any new line-up of the cartoons.
According to Ren and Stimpy co-creator Bob Camp, his angry chihuahua and charmingly dimwitted red cat probably won't be involved in the developing Nicktoons movie or considered as a possible reboot, as it seems there's some bad blood between the cartoon's creators and Nickelodeon.
Speaking with ScreenGeek at Wizard World Cleveland recently, Camp acknowledged the Nicktoons movie, but revealed that Ren and Stimpy would not be included with Nickelodeon's other original cartoons in the movie:
"They're rebooting the Nicktoons without Ren and Stimpy. We actually pitched a Ren and Stimpy movie to Paramount, they wanted nothing to do with it. [Adult Party Cartoon] poisoned the well. I think it really left a sour taste in everyone's mouth. I had nothing to do with that one. And now, someone [at Paramount] doesn't want anything to do with Ren and Stimpy."
Camp's talk about "rebooting the Nicktoons" is in reference to vague discussions that have been tossed around at Nickelodeon, though no official reboots of any favorite animated shows from the '90s has been announced. It's merely something that executives were toying with when the 25th anniversary of Nickelodeon Animation came about last year.
We Should Have Seen This Coming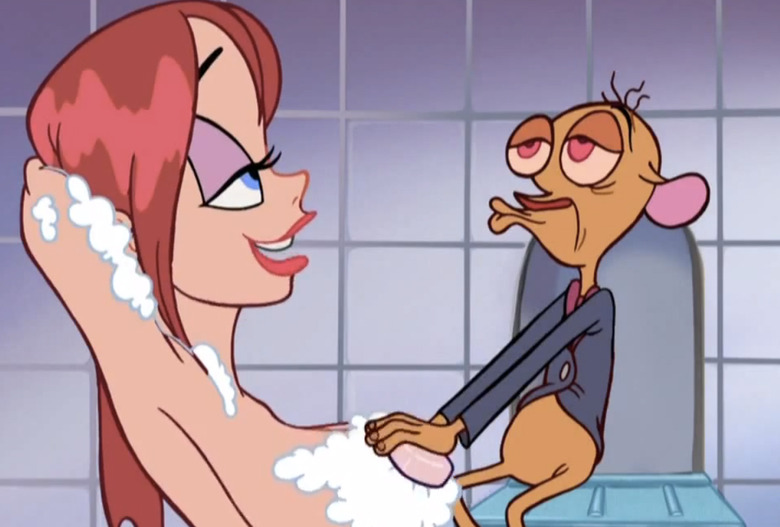 While Ren and Stimpy was one of the original Nicktoons on the network and it was popular among kids, it probably shouldn't have been. The series is full of obscure, abstract humor that goes right over the head of most children, much more often than your usual cartoon (even those that feature sneaky "adult" humor). Plus, it just ventured into strange territory, with things like rubber nipples and games like "Don't Whiz on the Electric Fence."
That comedy style was why Ren & Stimpy: Adult Party Cartoon (seen above), revival that aired on Spike TV (back when it was still called TNN) in 2003, was thought to be a good idea. That series hailed from co-creator John Kricfalusi, and it came about after his clashing with Nickelodeon executives led to his termination from the network. Parent company Viacom didn't dispatch with him entirely though, which is when Ren & Stimpy: Adult Party Cartoon was created and that didn't turn out well.
It's not hard to understand why Ren and Stimpy wouldn't be included in Nickelodeon's plans for new cartoons or the Nicktoons movie, especially after Adult Party Cartoon took some of the adult humor that was only implied in the original show and blew it up, including things like animated nudity and more things that Nickelodeon would never have allowed on their network. I wouldn't mind seeing whatever plan Bob Camp had for a Ren and Stimpy movie at some point, but if no one at Paramount or Nickelodeon is interested, it's probably not going to happen.
Since we don't know the current state of the Nicktoons movie is, there's always a chance that Ren and Stimpy could somehow slip in, even if it's just for a quick cameo. Otherwise, the current line-up of  Nicktoons for the film are reportedly Rugrats, Rocko's Modern Life, Aaahh! Real Monsters, and The Angry Beavers. Presumably, other shows like SpongeBob SquarePants, The Wild Thornberrys, Rocket Power, CatDog and more will be included, but we won't know until Paramount Pictures and Nickelodeon make some kind of official announcement.