'Handsome: A Netflix Mystery Movie' Trailer: Jeff Garlin Investigates A Decapitation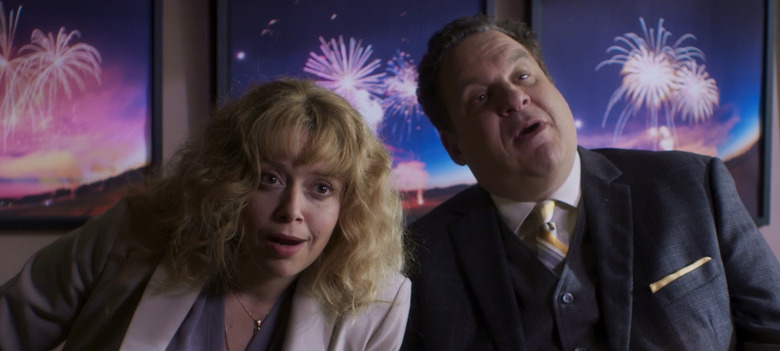 If you're a Curb Your Enthusiasm fan who is anxiously awaiting the ninth season that was announced last year, we have something that might hold you over, albeit without Larry David.
Jeff Garlin is one of the regulars on Curb Your Enthusiasm, not to mention making a great 1980s father in The Goldbergs, and he occasionally likes to dabble in writing and directing. He's back behind the camera with his third movie as writer and director, Handsome: A Netflix Mystery Movie, which puts Garlin in the role of a Los Angeles homicide detective in a movie that feels like it was made in the 1990s, and I mean that in the best way possible.
Watch the Handsome trailer below!
The movie almost feels like it exists in the world of Curb Your Enthusiasm, like this would be a movie that Larry David could rent if he wanted to. It has the same comedy vibe, especially with a supporting cast that includes the likes of Natasha Lyonne, Amy Sedaris and Steven Weber (all of which only add to the '90s feel of the proceedings).
The style of the detective narrative is distinctly classic, bordering along the lines of procedural shows like Columbo or Kojak, but with Jeff Garlin in the lead role (in addition to being behind the camera), it makes the tone drastically different from what you'd expect in a story like this as he interviews potential suspects with a dry, casual approach.
However, the one part of this trailer that has me the most excited is the presence of Chris Redd. He's the detective who asks if he can quit forever. You might not recognize him since he's more clean cut than you've seen him before, but that's the comedian who played Hunter the Hungry, the collaborator turned enemy of Conner 4 Real in Popstar: Never Stop Never Stopping. If more people had seen Popstar, Chris Redd would be huge right now. Hopefully, he'll find another way to get even more attention as a comedy star.
Here's the official synopsis:
Handsome: A Netflix Mystery Movie, stars Jeff Garlin (Curb Your Enthusiasm, The Goldbergs) as Gene Handsome, an LA homicide detective who tries to make sense of his life as he solves crime. Handsome's knack for solving mysteries is matched only by his inability to make sense of his own problems.
The film, which is also written and directed by Garlin and co-written by Andrea Seigel, is a lo-fi, Columbo-style mystery comedy. It co-stars Natasha Lyonne, Amy Sedaris, Christine Woods, Steven Weber, Eddie Pepitone and Leah Remini.
Handsome: A Netflix Mystery Movie hits Netflix on May 5, 2017.