'Ant-Man And The Wasp' Hasn't Called Michael Pena Yet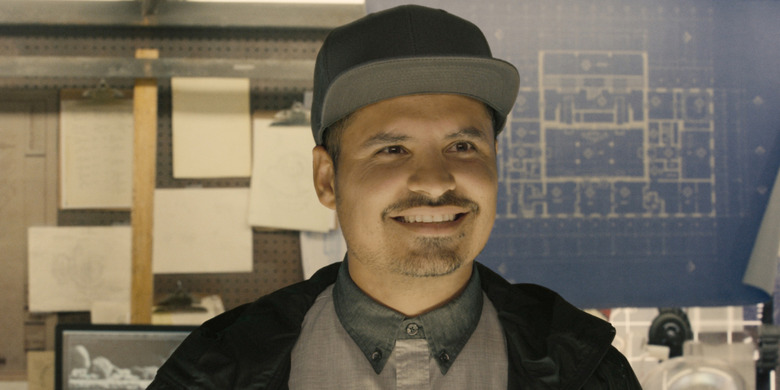 Michael Pena was easily one of the best parts of Ant-Man, but he may not even appear in its sequel.
Pena revealed that he hasn't received a call yet to return in Ant-Man and the Wasp, the sequel to the 2014 movie starring Paul Rudd, Evangeline Lilly and Michael Douglas. The movie is set to start shooting this summer, so it does indeed seem to be cutting it close to the deadline if he were to reprise his role as the scene-stealing Luis.
Pena played Scott Lang's convict friend who picks him up from prison only to drag him back into the criminal lifestyle. Luis' "one last job" leads Lang to stumble upon the Ant-Man suit, which then gets him recruited by Douglas' Hank Pym for a larger-than-life heist. Pena plays Luis with such candid humor and he set the irreverent tone for the original Ant-Man, arguably outshining the stars of the movie. It would be a great loss for the sequel, even if it is supposedly more focused on Lily as the Wasp (who also stole many scenes away from Rudd's bemused Lang).
The Hollywood Reporter had confirmed Pena's return back in August 2016, though Pena's latest statement contradicts this. As of now, the returning cast members are Rudd as Lang/Ant-Man, Lily as Hope Van Dyne (AKA The Wasp), and Douglas as Hank Pym, the original Ant-Man. Sharon Stone has also been cast in what she teased as "a wee part" in the movie.
Director Peyton Reed returns to direct the sequel, for which plot details are still under wraps. Reed has said that the first movie's crime-caper plot has been replaced by something "much weirder".
The sequel could possibly dive into the Quantum Realm, where the first Wasp, Janet van Dyne, supposedly died — though Scott Lang miraculously returned from it alive in the first Ant-Man. And let's not forget the double billing: Hope Van Dyne finally gets her own suit.
Ant-Man and the Wasp hits theaters on July 6, 2018.