'Fargo' Season 3 Trailers: Not A Pretty Picture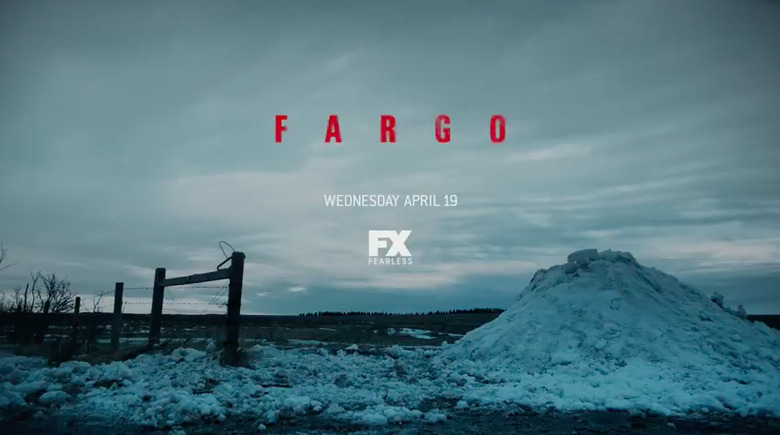 Ewan McGregor as Ray Stussy looks about as down on his luck as a man can get. The less successful brother of the "Parking Lot King" of Minnesota just reeks of desperation, making him right at home in the world of FX's Fargo. In less than a month's time, we'll likely see Ray make some very bad and very foolish decisions that get a lot of people hurt. I can't wait. For now, let's watch some new Fargo season 3 teasers.
The chilly TV spots for the upcoming season of Fargo have featured clues of the trouble awaiting creator and showrunner Noah Hawley's (Legion) new batch of characters, played by the likes of Carrie Coon (The Leftovers), Michael Stuhlbarg (Boardwalk Empire), Mary Elizabeth Winstead (10 Cloverfield Lane), and an actor who leaves a strong impression in one of the new promos, David Thewlis (Anomalisa). Thewlis plays a mysterious loner looking to get into the parking lot business with Emmit Stussy, who found more luck and success in life – or maybe just worked harder – than his disgruntled brother.
Despite their brevity, these sort of commercials give us a sense of who these characters are. Hawley writes such good dialogue we only need to hear a single line from a character to know what they're all about. You can see more of his latest characters in some new photos from Fargo season 3:
There are a few other pivotal characters we've yet to clearly see in the promotional materials for Fargo, which makes sense considering how large the cast is and how short these ads are. This season co-stars Jim Gaffigan (Gloria's deputy), Scoot McNairy (a criminal and a stoner), Shea Whigham (Meeker County's Chief of Police), and Me and Earl and the Dying Girl's Thomas Mann  (a science fiction writer).
Here's the official synopsis for Fargo season 3:
Set in 2010, the third installment of Fargo centers on Emmit and his slightly younger brother Ray Stussy (Ewan McGregor). Emmit, the Parking Lot King of Minnesota, sees himself as an American success story, whereas Ray is more of a cautionary tale. Forever living in his more successful brother's shadow, Ray is a balding and pot-bellied parole officer with a huge chip on his shoulder about the hand he's been dealt – and he blames his brother. Their sibling rivalry follows a twisted path that begins with petty theft but soon leads to murder, mobsters and cut-throat competitive bridge.
Carrie Coon stars as Gloria Burgle, the steady chief of the local police department. A newly divorced mother, Gloria is trying to understand the new world around her, where people connect more intimately with their phones than with the people around them. Mary Elizabeth Winstead stars as Ray's girlfriend, Nikki Swango, a crafty and alluring recent parolee with a passion for competitive bridge. David Thewlis stars as V.M. Vargas, a mysterious loner and true capitalist whose bosses plan to partner with Emmit, whether The Parking Lot King likes it or not.
Fargo season 3 premieres April 18, 2017.