Robert Downey Jr. To Star In 'The Voyage Of Doctor Dolittle'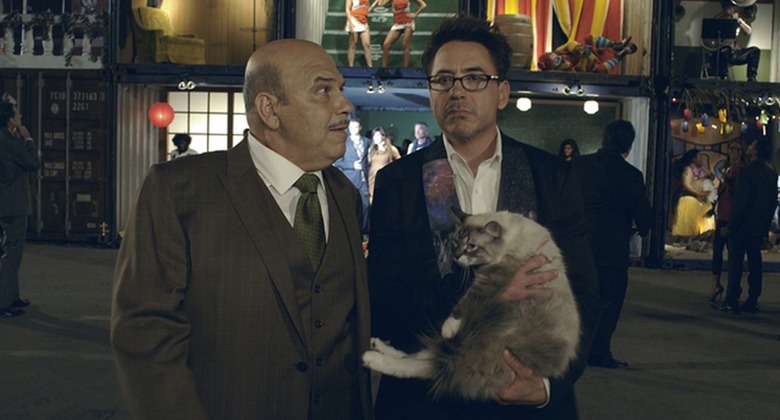 Robert Downey Jr. has signed on to star as Doctor Dolittle in an adaptation of The Voyage of Doctor Dolittle for Universal. Learn more details about the Robert Downey Jr Doctor Dolittle movie, after the jump.Stephen Gaghan, who wrote and directed Gold and Syriana, and wrote Rules of Engagement, Traffic, The Alamo and Havoc, is writing and directing the adaptation. Tom Shepherd wrote a previous draft of the script. The project was packaged and sent to studios last week, and Universal won the rights after an intense bidding battle with other studios.
While the books may be good source material for children movie adaptations, it's hard not to imagine that Robert Downey Jr. isn't going the same route as an actor like Johnny Depp. I hope I am wrong and let's all pray that this is better than the Eddie Murphy films released in the late 1990's. You can watch a trailer from this movie embedded below.
The movie is based on the character from the 1920's series of children's books by Hugh Lofting. The Voyages of Doctor Dolittle was the second of Lofting's Doctor Dolittle books, published in 1922. It is nearly five times as long as the original book, divided into six parts that included illustrations. Here is an official plot description from the book cover:
Together with Jip the Dog, Polynesia the Parrot, and 9-year-old Tommy Stubbins, the good doctor sets off in search of a missing colleague. This Newbery Medal–winning adventure recounts the hunt for Long Arrow, the world's greatest naturalist, in treks that range from the Mediterranean and South America to the bottom of the sea. Thanks to the doctor's gift for conversing with animals, the travelers find a solution to every challenge, including a curious encounter with a sea monster and a shipwreck on a mysterious island.
The Voyages of Doctor Dolittle, which is http://amzn.to/2nsWB0Davailable on Amazon for around $5, won the Newbery Medal for 1923. This isn't the first time Hollywood has brought Doctor Dolittle to the big screen:
Richard Fleischer's 1967 musical Doctor Dolittle was based on the novels: The Story of Doctor Dolittle, The Voyages of Doctor Dolittle and Doctor Dolittle's Circus. The film was nominated for an Oscar for best picture and won for best original song and visual effects.
A second Doctor Dolittle film was released in 1998 starring Eddie Murphy in the titular role, spawning a sequel and three direct-to-DVD sequels starring Kyla Pratt as Dolittle's daughter Maya, who shares her father and older sister's gift.
The Doctor Dolittle stories have also been adapted into radio series, cartoon shorts, stage adaptations and a direct to video animated movie.