David D'Amato, The Villain Of The Must-Watch Documentary 'Tickled', Has Died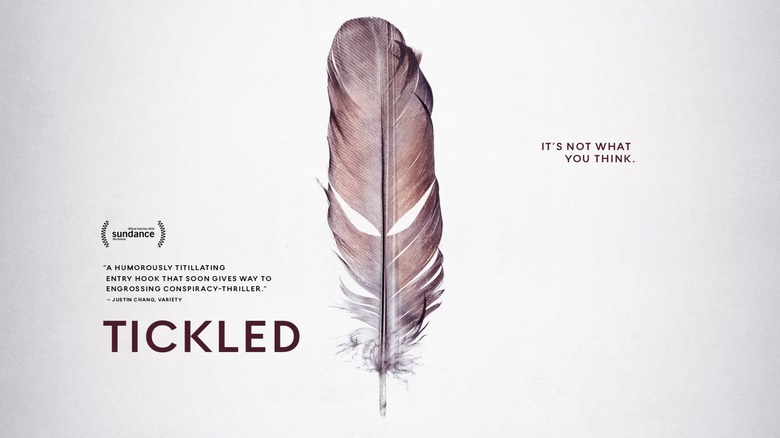 David D'Amato, the central "villain" of the popular 2016 documentary film Tickled, has passed away at age 55. The movie was one of David Chen's best films of 2016 and I recently caught up with it when it hit HBO. I'm not sure Tickled is a great film, but it's certainly compelling, weird, and a must-watch. HBO users can now watch it alongside a short film titled The Tickle King, which serves as a quasi-sequel and updates you on everything that has happened since the film originally screened.
As Tickled is structured as a mystery, complete with some strange twists, I would warn you against reading anything about the film, watching a trailer, or even delving further in this post if you have yet to see the movie.
Is David D'Amato dead? The news of his passing comes via the New York Times obituary section. According to the paper of record, D'Amato died suddenly on March 13, 2017, at the age of 55. He is survived by his dear Aunt Gloria (D'Amato) Johnson and her husband Kenneth of Oradell, New Jersey.
The paper talks about David's schooling, his career as a School Guidance and Residential Counselor, his pursuit of a law degree, his sports fandom (he was a lifelong New York Islanders and New York Mets fan and would frequently travel to Montreal to see the Canadiens play), and his charity work. He established the George G. D'Amato Family Foundation in memory and honor of his father. The obituary does not mention his involvement in Jane O'Brien Media, the company that produces the "competitive tickling" fetish videos at the heart of Tickled or the controversy that that documentary spawned.
In Tickled, filmmakers David Farrier and Dylan Reeve chased the mystery of this strange company, which was producing "tickling competitions" around the world. The documentarians discovered that D'Amato was the mastermind behind the group, which allegedly intimidated subjects of the videos if they did not comply with specific demands. When confronted with the allegations in the film, D'Amato denied that he was affiliated with the company even though documents were uncovered that seemed to tie him directly to the business.
As I said above, I think the film is riveting and compelling, but the ending was a bit of a disappointment. The sequel short, The Tickle King, available for streaming on HBO, offers more of a conclusion to the story, albeit not much. And with D'Amato's death, it doesn't seem like we'll get any more closure to this story.
The following is a statement from Tickled filmmakers David Farrier and Dylan Reeve on the death of David D'Amato:
We are incredibly sad to learn that David P D'Amato, the subject of Tickled, has passed away. We don't know any specific details about his death at this time.
David D'Amato has been a part of our lives for around three years now – a very unusual three years – and despite the various lawsuits he brought against us, this news is something that brings us no joy, and has hit us pretty hard.
We mostly knew David through talking to those he had interacted with online over the last 20 years, and people that he had been close to.
We only met him twice; Once in Garden City, and another time when he turned up to a screening of the documentary in Los Angeles. We met a man who came out swinging, so to speak – threatening more lawsuits, while at the same time commenting that he enjoyed certain elements of the film. It seems to us that underneath it all, he did have a certain sense of humor. It is also clear that he had certain troubles, and those are troubles that we hoped he would come to terms with at some point.
While making Tickled we always thought it was important to portray David D'Amato not just as an online bully, but as a person. That is why the closing minutes of Tickled are so important to us – an insight into D'Amato, the person. Ultimately we'll never know all the things that made David the man he was. Like all of us, he was complex and complicated.
So we ask you to keep in mind that while David appears to have lived a fairly solitary life, he did have friends and family members. We ask that in comments online, and out there in the real world, you treat this information, and this man's passing, with respect.
David Farrier & Dylan Reeve