Avatar Land Food: This Is What Disney World's Pandora Food Looks Like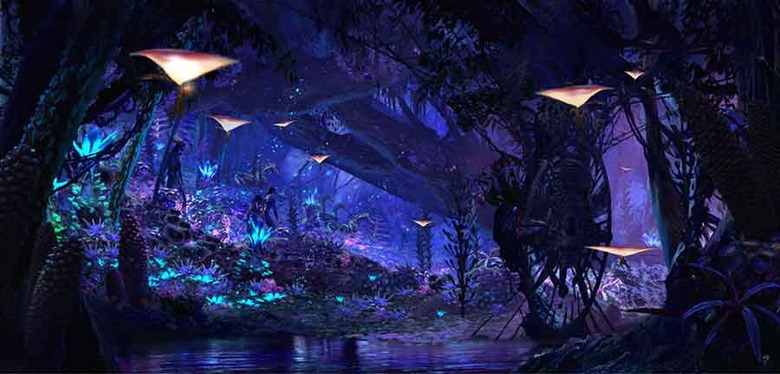 Pandora: The World of Avatar opens on May 27, 2017 in Walt Disney World's Animal Kingdom theme park. Since "Avatar Land" (as we'll always call it in our hearts) was first announced by Disney, one of the many selling points involved immersing guests in the world of Pandora, from the floating mountains down to the exotic alien food served at the restaurants. This is expected at this point – Universal's The Wizarding World of Harry Potter has redefined food options at theme parks: gone are the cheap bad food choices, replaced with immersive food options that continue to transport guests into another world.
So what will the food of Pandora look like? Let's take a look at the Avatar Land food below.

The image above is previously released Avatar Land concept art showing Satu'li Canteen, the main restaurant in Pandora: The World of Avatar. The storyline of the park says that Satu'li Canteen was once the main mess hall of the Resources Development Administration (RDA) base located in the Valley of Mo'ara, as seen in the first Avatar film. Here's more:
Now the canteen is owned and operated by Alpha Centauri Expeditions (ACE) tour company and has been redesigned into a beautiful museum-like dining room. The interior has been transformed with colorful Na'vi items filling the walls and hanging from the ceiling — hand-woven tapestries, natural Pandoran elements and even cooking tools decorate the restaurant.
The Satu'li Canteen will be the first fast-casual restaurant to offer Mobile Order, which is basically Disney's next-generation way of taking food orders. Think MagicBand or FastPass for restaurants:
A new convenient option to order and pay for meals on-the-go within the My Disney Experience app, allowing guests to bypass the queue to order when they arrive at the restaurant. Using the app, guests can select menu items, customize their order and pre-pay for their meal. When they arrive at the restaurant they will tap an "I'm here" button in the app, which will notify the kitchen to prepare the meal. When ready, guests will be alerted through the app to pick up their meal at a designated window.  Disney Dining Plan is accepted at Satu'li Canteen but, at this time, Mobile Order only accepts credit cards.
This sounds like a welcome advance for Disney Parks. Just a couple weeks back, I was checking out Disneyland's limited time re-theme of Village Haus Restaurant into a Beauty and the Beast's Red Rose Taverne and found myself waiting at a counter for nearly twenty minutes. It would be great if this new Mobile Order technology would do away with those annoyances. Disney says that additional fast casual and quick-service restaurants will begin to offer Mobile Order later this year.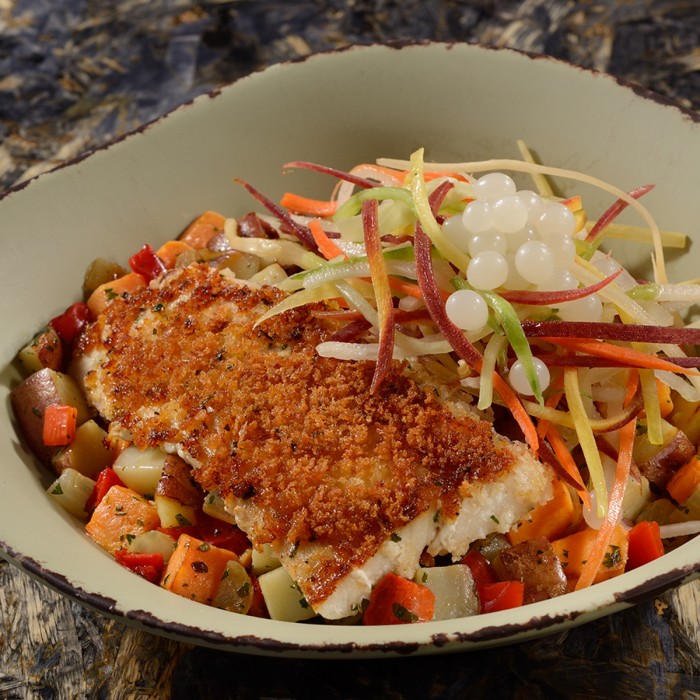 Disney has also revealed our first look at some of the food that park guests can enjoy at this location. Here's the official description:
Creative, flavorful dishes based on the healthful bounty of Pandora, with wholesome grains, fresh vegetables and hearty proteins at Satu'li Canteen, where an on-stage grill is a prominent feature in the colorful dining room. Look for familiar dishes with a twist in the fast-casual restaurant, with bowls that allow diners to customize their lunch or dinner. Diners start with a base of quinoa and vegetable salad; red and sweet potato hash; mixed whole-grain and rice or romaine and kale salad. Next is either with wood-grilled chicken, slow-roasted beef, sustainable fish or chili-spiced fried tofu. And the bowl is finished with charred onion chimichurri, black bean vinaigrette or creamy herb dressing.
It basically sounds like a concept similar to Chipolte with customizable bowls. That doesn't seem too exotic or exciting.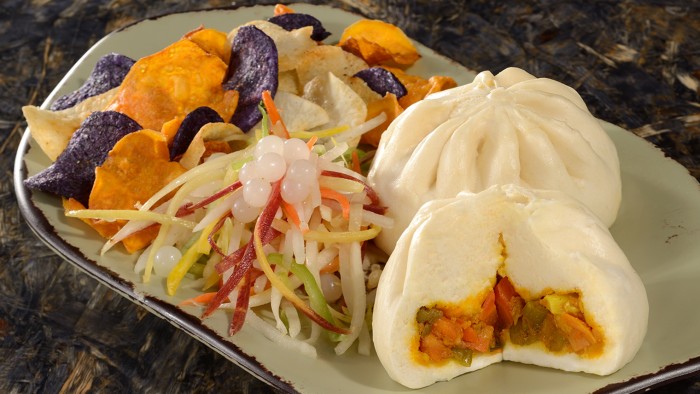 The next dish on the menu has me more interested: Steamed "pods" which are actually bao buns with either cheeseburger or vegetable curry and served with root vegetable chips and crunchy vegetable slaw. I love bao buns in general, and these look colorful and otherworldly, precisely the kind of food I was expecting from this new theme park land set on an alien planet.
Knowing that kids are sometimes pickier when it comes to food choices, Disney is providing them with some simpler options including grilled chicken, beef, fish or tofu with greens or rice; a hot dog wrapped in Parker House dough; a cheese quesadilla, or a steamed "pod" (cheeseburger bao bun).
This all has me wondering what the immersive food of Star Wars Land might look like. Aside from "blue milk" and that expanding portion that Rey makes at the beginning of Star Wars: The Force Awakens, we haven't seen much of the food from that galaxy far far away. But this Pandora menu has me eager to see what they cook up.