'The Boss Baby' Gets A New Trailer Geared Towards The 'Beauty And The Beast' Crowd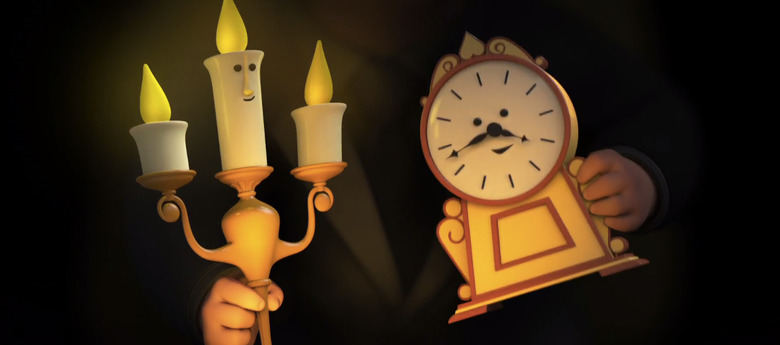 Those who helped contribute to the massive box office haul of Beauty and the Beast this past weekend may have been treated to some trailers that were specifically created to appeal to Disney's core demographic. Transformers: The Last Knight put together a trailer that had their new female character front and center, and DreamWorks Animation created a new Boss Baby trailer that really leaned into the audience pandering with a custom-animated intro involving Alec Baldwin's man-baby character making Lumiere and Cogsworth fight. You can watch (endure?) it below.
This appears to be one of those DreamWorks Animation movies that really misses the mark. I don't know if it's just because the trailers are only pushing the humor that's supposed to come from an infant acting like a full-grown businessman, but I don't see any trace of heart in this movie at all. Not every movie needs to pull hard at your heartstrings Pixar-style, but there should at least be something that makes you invested in these characters, and I don't see any trace of that in this trailer.
Even though this is something that kids who laugh their way through this movie won't really care about, I'm having a hard time buying into the fantastical elements of the movie. Sure, I'll get on board with the idea that Alec Baldwin is playing some kind of baby spy who is trying to figure out how to make sure babies get more love than puppies. I think there's an argument to be made that the problem itself is ridiculous, I'll let it slide. But what I can't get past is the lack of clarity between what is real and what is in the kids' imagination. Here's how a scene unfolds from footage shown to us at Comic-Con last year, which we've seen teased in the trailers:
"During a scene where the older brother is being dragged by the baby brother's speeding police car, we cut to the parents who just see their kids playing normal, with the car moving slowly across the lawn. Then we smash cut back to the intense action. It paints a picture that the heightened presentation of the action is happening in the kids' heads and not real. But following the chase, the parents come out to the yard and are horrified to find a Power Wheels firetruck on fire, broken glass, and a baby hanging from a tree branch."
There's no indication as to what's meant to be "real" in the world of Boss Baby, and that's frustrating on a narrative level. Surely there are some who will say that I'm just nitpicking a movie that's meant to be entertaining to children, but there are plenty of movies fully geared towards kids that operate within a world that has rules within the confines of the narrative that are easily discernible and unbroken. Maybe this is a discrepancy that will be cleared up in the full movie.
DreamWorks Animation and the director of Madagascar invite you to meet a most unusual baby. He wears a suit, speaks with the voice and wit of Alec Baldwin, and stars in the animated comedy, DreamWorks' THE BOSS BABY. THE BOSS BABY is a hilariously universal story about how a new baby's arrival impacts a family, told from the point of view of a delightfully unreliable narrator, a wildly imaginative 7 year old named Tim. With a sly, heart-filled message about the importance of family, DreamWorks' THE BOSS BABY is an authentic and broadly appealing original comedy for all ages.
The Boss Baby is in theaters March 31, 2017.