Kate McKinnon & Mila Kunis Find Danger In 'The Spy Who Dumped Me'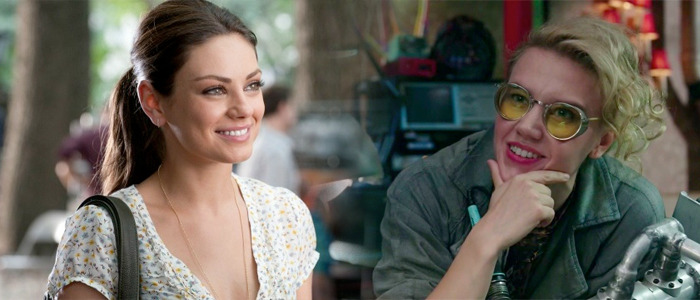 For cast members of Saturday Night Live, the summer between seasons is when they take the time to make the movies that they don't have time to shoot during regular TV season. One of the most in-demand cast members on the comedy scene right now is Kate McKinnon, and we have word on at least one project that will keep her busy while SNL is on hiatus for a few months this summer.
Kate McKinnon, seen last year in Ghostbusters, Office Christmas Party and Masterminds, will star with Mila Kunis in an action comedy called The Spy Who Dumped Me. You can probably guess the gist of the story from the title, but we'll explain what it's about below.
The Hollywood Reporter reveals Lionsgate won a bidding war to pick up The Spy Who Dumped Me, a new script from Life Partners director and writer Susanna Fogel. The story centers on a woman who learns that the ex-boyfriend who just broke up with her was a spy. Somehow, he ends up dead, leaving his ex-girlfriend and her best friend as the only people who know about his mission, leaving them to take on the responsibility, presumably with hilarious results.
It's not clear whether Mila Kunis or Kate McKinnon will be playing the woman who gets dumped, but it honestly doesn't really matter. The easy money is on Mila Kunis being dumped and Kate McKinnon as her best friend, if only because the friends in this scenario is likely meant to be the comedic relief. But much like the way that Pineapple Express swapped the roles of James Franco and Seth Rogen, it would be interesting to see McKinnon play the straight woman whileKunis has a little more fun.
The world of spies is always ripe for comedy when introducing civilians to the world of espionage. Last year, it was Dwayne Johnson getting Kevin Hart involved in some serious danger in Central Intelligence, and before that Melissa McCarthy sent up the subgenre in a raunchy way as a CIA analyst turned field operative in Spy. In this case, The Spy Who Dumped Me feels like something akin to Spy combined with McCarthy's buddy cop turn with Sandra Bullock in The Heat.
Mila Kunis is coming off success with the female-driven comedy Bad Moms, and the holiday-themed sequel Bad Mom's Christmas will arrive later this year. Meanwhile, Kate McKinnon will soon have another raunchy round of female comedy arriving this summer with Rough Night (watch the trailer here), co-starring Scarlett Johansson, who just hosted Saturday Night Live.
As of now there's no indication who will direct the film, but we'll probably find out before the film starts shooting in a couple months.