Joe Manganiello Sounds Less Certain About Playing Deathstroke In 'The Batman' Now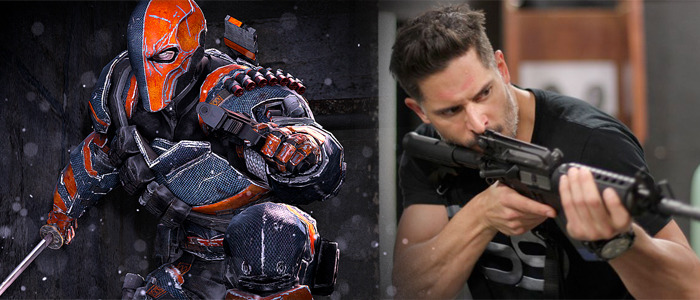 Development of the first standalone Batman movie featuring Ben Affleck as The Dark Knight has been somewhat difficult recently. After being attached to helm the movie for months, Ben Affleck pulled out of the project as director and has since handed off duties to Dawn of the Planet of the Apes filmmaker Matt Reeves.
This change behind the scenes has created a production delay for The Batman (which still hasn't been confirmed as the official title) as the script is being rewritten from scratch. This explains why previously announced star Joe Manganiello, who was meant to play the villain Deathstroke, no longer sounds very certain about his role in the movie.
Find out more about the lack of certainty in Joe Manganiello playing Deathstroke below.
The Batman development process has essentially started over now that Matt Reeves has been brought on as director, and that seems to have the role that Joe Manganiello was lined up to play last fall up in the air. The Magic Mike co-star recently talked to Pittsburgh Today Live (via Batman-News) while making the rounds to promote his voice work in The Smurfs: The Lost Village, and in the interview, he was asked if he would be appearing in The Batman as Deathstroke. His response was not full of much confidence:
If you don't have 10 seconds to spare for that video, Manganiello throws his hands up in the air in a somewhat half-heartedly defeated kind of way and says, "Um, maybe. We'll see." Indeed, it sounds like the state of The Batman is up in the air, and thus the actor doesn't really know how involved he'll be in the movie as it switches hands and moves towards production.
That doesn't mean we won't see the actor as Deathstroke in the DC Expanded Universe though. We know the actor went through costume tests very early on for the role, and there was even an indication that the character might have a role in Justice League. Therefore, Joe Manganiello could still end up being a force for Batman to reckon with on the big screen, even if he doesn't end up being the primary villain in The Batman.
Right now there are so many details about The Batman up in the air, it's hard to know what's going on. With production delayed until sometime next year, it might be awhile before we hear any solid details on The Dark Knight front. In the meantime, Warner Bros. Pictures and DC are trying to get another DCEU movie to join Aquaman in production before the year is out. But it remains to be seen if they can make it happen. As always, stay tuned.