Spider-Man Spin-Off 'Venom' Coming In 2018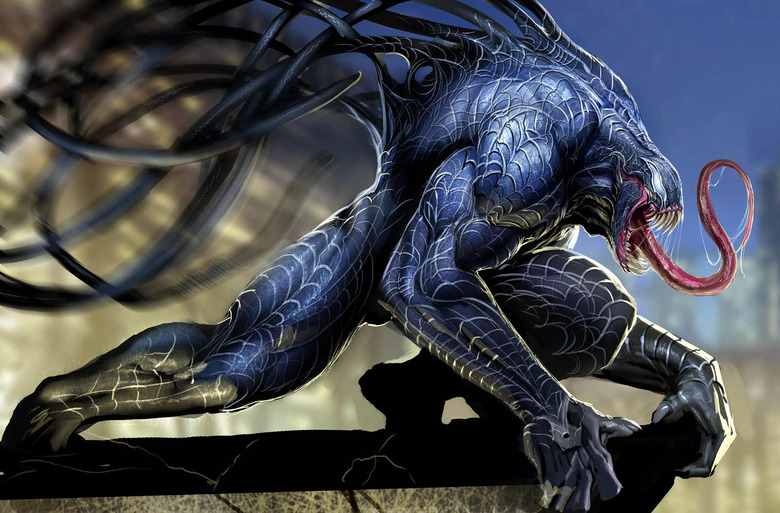 Sony Pictures has dated a movie focusing on Spider-Man villain Venom for October 5, 2018. Alex Kurtzman has signed on to direct the film. (Update: Exhibitor Relations announced the date and failed to update that Alex isn't directing.) Hit the jump for more details on the Venom movie.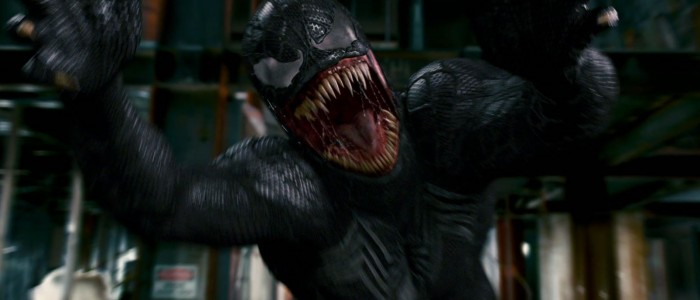 Update: Scott Rosenberg (Con Air, Gone in Sixty Seconds, High Fidelity) and Jeff Pinkner (The Amazing Spider-Man 2, Jumanji reboot, The Dark Tower) have been hired to write the script.
Last we heard Sony hired Dante Harper to write the script for Venom, which was envisioned as a potential franchise-starter. And at that time we were told that the film would stand alone completely "apart from and unrelated to" the upcoming Spider-Man movies featuring Holland. No word on if anything has changed on that front but as it sounds like Venom isn't joining Spidey in the MCU as Avi Arad and Matt Tolmach will produce this film. Harper's screenwriting resume includes the upcoming American remake of Sleepless Night, Tommy Wirkola's Hansel and Gretel: Witch Hunters, and rewrite work on the Edge of Tomorrow.
Sony has made repeated attempts to make a Venom spinoff for years now. During the tail end of the Sam Raimi / Tobey Maguire Spider-man era, they hoped to launch a spin-off franchise. Venom made his first big-screen appearance in 2007's Spider-Man 3, where Topher Grace played him.
When a Spider-Man cinematic universe was planned during the Marc Webb / Andrew Garfield Spider-Man era, Venom was one of the properties being developed. Paul Wernick and Rhett Reese (Deadpool) took a crack at the script, as has Alex Kurtzman and Roberto Orci (The Amazing Spider-Man 2). Gary Ross and Josh Trank were attached to direct at various points. But of course, Sony decided to reboot the character as part of the Marvel Cinematic Universe.
Tom Holland made his debut appearance as Peter Parker aka Spider-Man in Captain America: Civil War, and will be appearing in his own standalone movie Spider-Man: Homecoming, which hits theaters in July. Holland is expected to reprise his role in at least two more Spider-Man films, in addition to Marvel's epic crossover Avengers: Infinity War and Avengers 4.Possible Spoiler Warning: What follows is a ridiculous fan theory that started on Reddit. I doubt it will come to fruition, but just in the very slight chance it ends up being true, this is your warning for possible spoiler for the movie Life.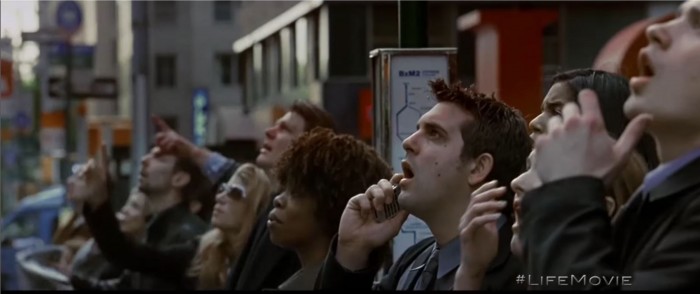 Life Fan Theory
A recent fan theory has been floating around the internet suggesting that Sony's upcoming sci-fi film Life could be a backdoor Venom prequel. Daniel Espinosa's film follows astronauts aboard the International Space Station who retrieve the first Martian lifeform. The tiny sentient organism grows powerful and begins to kill off the crew members.
The speculation began on Reddit when a user pointed out a recycled shot from Spider-Man 3 appears in the trailer for Life. This is a common practice that happens more often than you would think. Someone in the thread began to theorizes: "What if Life is actually a symbiote/Venom origin story?" Of course, this is just how we think in this post-Split world, and the chances of this are very very VERY unlikely.
It is worth noting that Deadpool screenwriters Rhett Reese and Paul Wernick previously worked on a Venom script for Sony before the Spider-man cinematic universe was seemingly abandoned with the MCU Spider-Man deal.