'The Batman' Delayed As The Script Is Rewritten From Scratch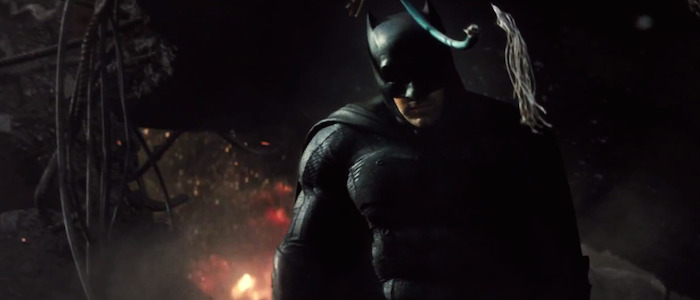 UPDATE: This story has been updated with additional sources.
There are two ways to look at all of the noise surrounding The Batman, Ben Affleck's upcoming solo adventure as the Caped Crusader. One narrative is that Warner Bros. has no idea what to do with their DC comic book properties. The other is that The Batman is hitting speed bumps because everyone involved is actively working to get this one right and want to avoid disappointing fans who were let down by Batman v Superman: Dawn of Justice and Suicide Squad.
It has already been reported that The Batman will be delayed due to director Matt Reeves' pre-existing commitments to another project. Now, we are hearing that the film is being completely rewritten from scratch.
That first piece of news comes our way via Variety's Justin Kroll, who took to Twitter to report that Reeves is working on War For the Planet of the Apes until the end of June, confirming earlier reports from Mark Hughes at Forbes and Sean Gerber of the Batman News podcast. That means The Batman won't even begin production until 2018 at the earliest, which means that the rumored 2018 release date is impossible.
Hearing Matt Reeves contracted to work on APES till at least end of June, so production on BATMAN likely not starting till 2018

— Justin Kroll (@krolljvar) March 14, 2017
Kroll also warned that Reeves won't even meet with any actors until the summer, so outside of Ben Affleck himself, no casting rumors that pop up between now and then will carry much weight.
Also means any casting rumors you hear are likely BS seeing that he wouldn't have time to meet with any talent till at least July

— Justin Kroll (@krolljvar) March 14, 2017
We can now report that there is more going behind-the-scenes as well. According to sources close to the production, the screenplay for The Batman is being rewritten from the ground up, so it's entirely possible that everything we've heard about the film's story will no longer be in play.
For the record, the original screenplay for The Batman was supposedly in flux last month, when it was initially reported that the studio was eyeing a "fresh start." A day later, it was reported that everyone was happy with the latest draft. Affleck, Chris Terrio, and DC Comics writer and CCO Geoff Johns were among those who worked the first version of the screenplay, which reportedly featured Batman facing off against Deathstroke.
While the internet's knee-jerk response to reshoots and rewrites in general is to shout "Trainwreck!", this actually sounds like good news. This means that Reeves, a talented director and a fine match for the Dark Knight, isn't simply taking on leftovers – he's actively involved in tailoring the film to his sensibilities. It's not clear who is responsible for the new script quite yet, but this feels like everyone slowing down, taking a moment, and setting out to do this right rather than rush to meet a release date.
At this rate, a 2019 release for The Batman sounds about right. However, the more important thing is that Reeves and Affleck aim to make a great movie, not hit a release date.